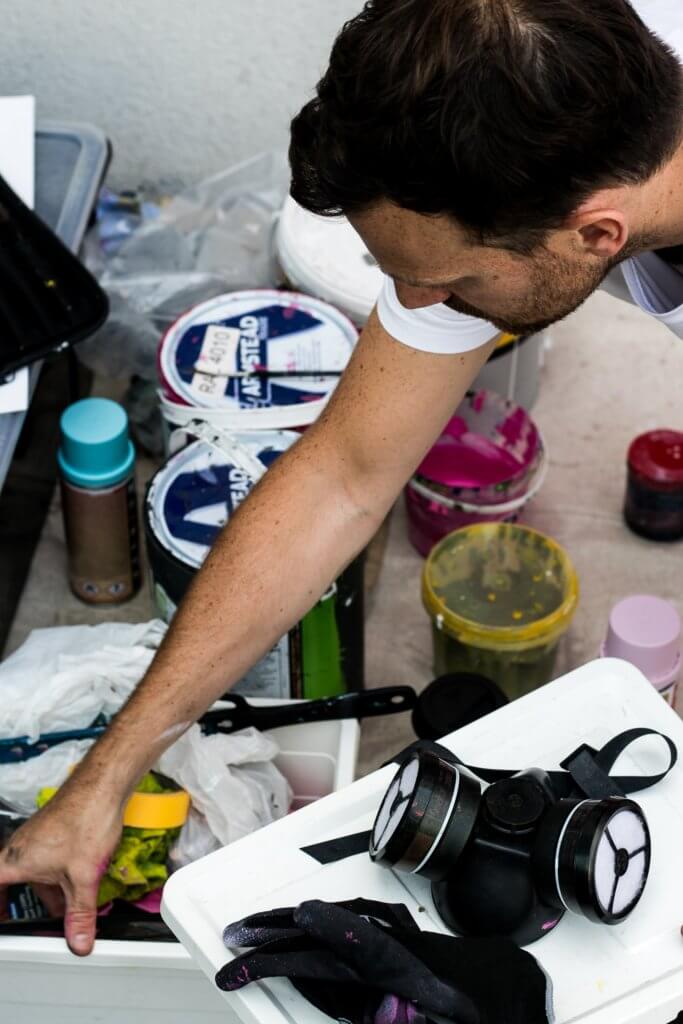 Top Pick
Yshield Emf Shielding Paint Hsf54 5 Liter
High-Frequency Radiation Shielding Paint (5 Ltr) blocks wifi, phone masts, TETRA, Smart Meters, Digital TV, Wi-Max and more
Top Pick
Yshield Emf Shielding Paint Hsf54 5 Liter
High-Frequency Radiation Shielding Paint (5 Ltr) blocks wifi, phone masts, TETRA, Smart Meters, Digital TV, Wi-Max and more
Last update on 2023-12-03 / Affiliate links / Images from Amazon Product Advertising API
EMF is considered one of the curses of modernization. Although debatable, the majority of the researchers agree on the harmful effects of EMF. Cell towers, mobile phone signals, Wi-Fi signals all are constantly emitting harmful radiations. And we are accustomed to such a lifestyle that we cannot even think of living without them. So, the solution lies in top-quality EMF blocking paints.
In this article, I have listed the 5 best EMF blocking paints. If you just want my verdict to get the best right off the bat, our recommendation is YSHIELD® HSF54 Standard shielding paint. It has superior blocking property and is environment-friendly. It can go toe to toe against the high levels of radiations. Plus, it's totally frost resistant and non-flammable.
However, I urge you to read the entire article as it is full of information. It will give you more options to choose from. You never know which one might suit you best. Plus, you will gain sufficient knowledge about anti-EMF paints and that can help you make your own decisions in the future. So, let's explore the 5 best EMF blocking paints that you could find in the market.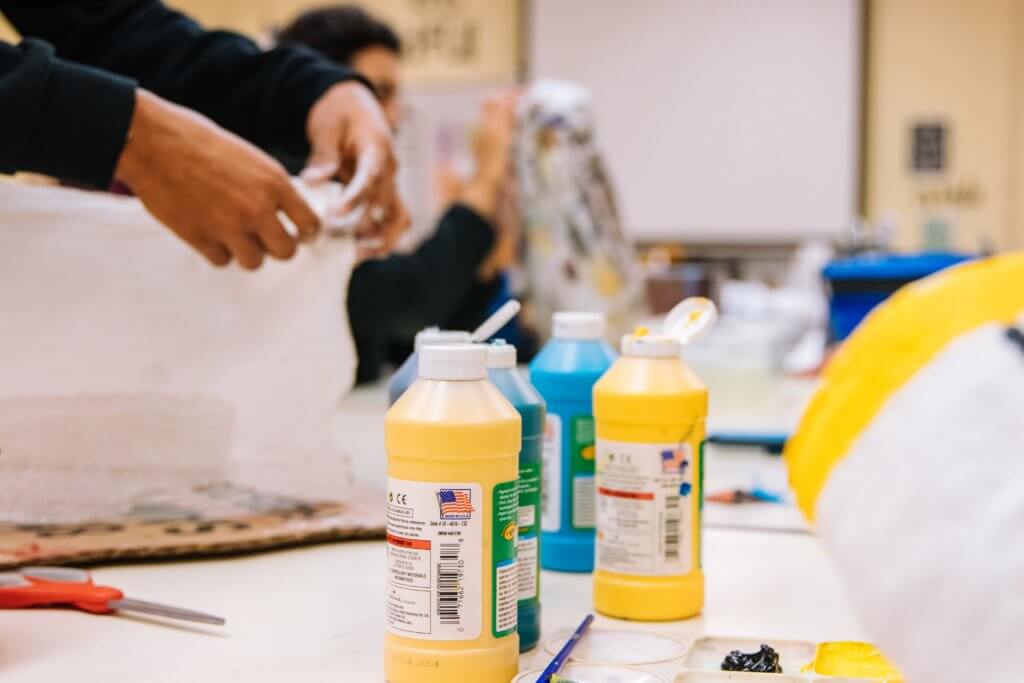 5 Best EMF Blocking Paints
When it comes to EMF blocking paints the options are pretty limited here in the UK. So, we scoured the internet and came up with 5 EMF blocking paints that you can consider buying to paint your establishment. 
YSHIELD® HSF54 Standard Shielding Paint
Last update on 2023-12-03 / Affiliate links / Images from Amazon Product Advertising API
YSHIELD is the top anti-EMF paint brand. The quality of their products speaks for itself. Their HSF54 variant is an excellent all-in-one package. The HSF64 variant is minimalistic to make it more eco-friendly but making it less effective. Pro54 focuses on abrasion resistance and hardness. But HSF54 has excellent all-round performance, having the pros of both and cons of none.
It has high attenuation. At 1GHz up to 59 dB and at 40 GHz up to 67 dB, having minimum attenuation of 39 dB. YSHIELD® HSF54 has superior adhesion properties like existing paint, sheetrock, etc. Plus, it is manufactured from biocompatible components which means it does not directly harm the human body.
YSHIELD® HSF54 is free from any plasticizer and solvent. This property gives it an extremely high ecological value. YSHIELD's dedication and passion to make their products environment-friendly is admirable. They maintain excellent quality control to ensure that their customers get the highest of qualities in their hands.
Features:
Frost Resistance: YSHIELD® HSF54 is frost resistance. It can withstand even the coldest of temperatures throughout the year. This product had proven its worth by undergoing rigorous testing and going through 5 frost/thaw cycles.
Non-flammable: It is manufactured from non-flammable substances and poses no risk of fire accidents. Whether liquid or dry, fire doesn't catch up to it, unlike traditional paints. It doesn't contain any oil or solvent, thus eliminating the danger of fire accidents.
Can Withstand 5G Signals: YSHIELD is constantly improving its products in accordance with the advancement of communication technology. Their anti-EMF paint now can withstand 5G signals. So, you can be more relaxed knowing that no matter what area you are in, those 5G signals won't get to you.
TÜV-SÜD Certified: World famous testing company TÜV-SÜD has closely observed the product, its efficacies, and if any adverse effect is present. The YSHIELD® HSF54 has passed TÜV-SÜD's strict testing protocols and consequently got certified.
Pros:
No harmful nanoparticles like graphene are used.

Does not contain any pungent odor.

No metallic particles are present.

Does not get oxidized.

Water-resistant.

Easy to apply.
Cons:
Grounding is mandatory.

Might require several layers to get expected results.

The black color is difficult to cover by using other paints.
Blocpaint High-Frequency Radiation Shielding Paint
Last update on 2023-12-03 / Affiliate links / Images from Amazon Product Advertising API
Just as the name of this paint suggests, this EMF shielding paint provides the best protection to you and your family members from harmful cell towers and Wi-Fi radiations. This paint is a water-based carbon paint that can block over 99% of the radiation at 6Ghz. 
Designed by cell tower radiation experts and manufactured by a leading paint manufacturer in the United Kingdom, this paint has undergone numerous independent tests and researches to find out its effectiveness. And every time, this paint came out on top over its competitors. 
Blocpaint High-Frequency Radiation Shielding Paint is one of the best EMF shield paints that you can find in the market. The quality of the paint, ease of use, and radiation blocking ability of this paint truly make it the best paint in its class.
Features:
Easy to Apply: Blocpaint High-Frequency Radiation Shielding Paint is a water-based EMF shielding paint. So, you can apply it to any paintable surface using a roller or brush, unlike its competitors.
Effective Against Low Frequency and High-Frequency EMF: Whether low frequency radiation or high frequency radiation, this paint is equally effective against both. 
Large Coverage: Only a liter of Blocpaint High-Frequency Radiation Shielding Paint can cover 7.5 square meters of your home's wall surface. This much coverage per liter paint is unthinkable to any other EMF shielding paints.
Highly Efficient: The performance of this paint is tried and tested through independent researches. This paint can shield over 99% of the power generated from the cell tower, and Wi-Fi radiation.
Pros:
Can be applied the same as traditional paints

Suitable for both interior and exterior application

Can be painted over with any regular emulsion without any negative effect on its efficiency

Only one coat is sufficient to get a satisfactory result
Cons:
The black color might not be appealing to everyone

 

Should be grounded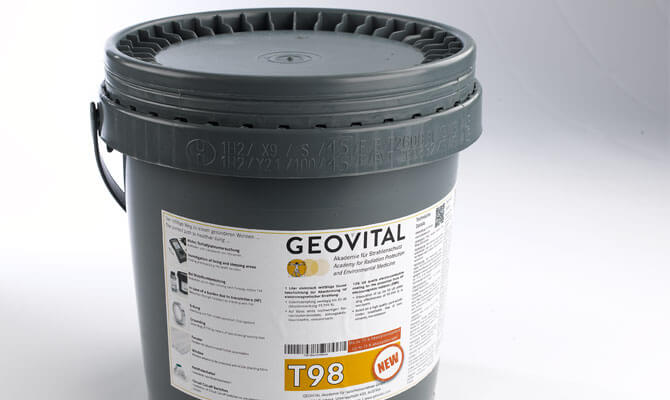 GEOVITAL T98 anti-EMF paint is a highly competent EMF blocking paint. Besides blocking EMF, it also works as an excellent EMF absorber. So, using this paint will ensure EMF protection both inside and outside of your home. It is suitable for both indoor and outdoor usage. GEOVITAL T98 works as a primer as well so you can paint over with normal paints.
It has high attenuation and shield effectiveness. It can repel up to 10ghz of the frequency with only two or three layers. Not only that, in extreme testing conditions, the GEOVITAL T98 has shown to be capable of blocking as high as 20 GHz frequency. It has a coverage of 8 square meter per liter. So, it is very economic and a safe investment.
Features:
Excellent EMF Absorber: Unlike many other EMF blocking paints in the market, GEOVITAL T98 is a highly capable EMF absorber. It absorbs around 15% EMF which means less radiation outdoors
Highly Effective: its efficacy is off the charts. With only 2-3 layers, it blocks 99.99% high-frequency radiations.
Ideal Primer: It is made in a way so that it can work better as a primer. Anti-EMF paints are not known for aesthetics. So, applying regular paint is always advisable. If the EMF blocking solution doesn't have good adhesive properties, then the paint over it won't stick properly. That is where GEOVITAL T98 shines.
Pros:
Can block up to 20 GHz of radiofrequency.

Attenuation of 50 dB.

Works against high frequency 5G radiation.
Cons:
The application is a bit difficult.

Grounding is required.

Does not work well against low frequencies.

Contains VOCs and solvents.
Anti-EMR Paint by LAKELAND Paints
A wondrous product of LAKELAND paints, the anti-EMR paint works like a charm. It can block 98% EMF radiations with only a slight application. It was tested by Powerwatch in 2005 and proven to be able to block 99% microwave energy. It works like a fortress against frequencies between 900 MHz to 1800 MHz.
Like other EMF blocking paints, it has great adhesive properties. It means that it can be used as an undercoat for applying other paints over it. This anti-EMR paint is also very cost-effective. Its coverage area is about 11 square meter per liter which is unbelievable.
Features:
Suitable for Children's Room: It does not contain any ingredient which is harmful to children. It's free of bad odors and other unpleasant properties. You can use it in your kids' room without any worries.
Free of VOCs: It doesn't no contain any volatile organic compounds (VOC). VOCs are harmful to our eyes, nose, throat, and internal organs. So, this paint is very safe.
No Unpleasant Emission: It doesn't emit any harmful compounds or unpleasant smells. Since it's painted in your room, even slightly bad odors can feel unendurable. So LAKELAND made this paint completely odorless to make your life more comfortable.
Pros:
Environment friendly

Very cost-effective.
Cons:
Low effectiveness.

Cannot block high-frequency radiations.
HF+LF | Shielding Paint CFA40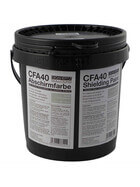 Shielding Paint CFA40 by RadonTec GmbH is another anti-EMF paint that you can use to protect yourself from harmful radiation. It has an attenuation of 38 dB to 44 dB and can work against 18 GHz frequency. It's free of any metallic compounds which makes it resistant to corrosion. It is pure acrylic paint so easy to paint over with other paints.
It provides excellent protection even with single-layer coating. Its coverage is 4.9 square meter per liter which is significantly low from others in this list. It contains carbon fibers to cover any cracks and ensure a smooth finish.
Features:
Free of Solvents: It's free from any type of solvent. Solvents react in the presence of sunlight and produce ozone. The absence of organic solvents makes Shielding paint CFA40 completely environment friendly.
Accessories Available on RadonTec's Website: Any accessories like grounding components or others are sold on RadonTec's website so that you can find all the necessary stuff at the same place.
Suitable with Normal Emulsion Paints: Its good adherence property makes it compatible with other paints. You can paint over it with any kind you want.
Pros:
Does not corrode in time.

Free of organic solvents.

permeable to the natural Schumann resonances
Cons:
Contains a slight amount of VOC.

Not suitable for airless spraying.

Very low coverage.

Cannot be shipped to the USA or Canada.
Bestselling EMF Blocking Paints
Bestseller No. 1
Bestseller No. 2
Bestseller No. 3
Bestseller No. 4
Last update on 2023-11-05 / Affiliate links / Images from Amazon Product Advertising API
How to choose top quality EMF blocking paints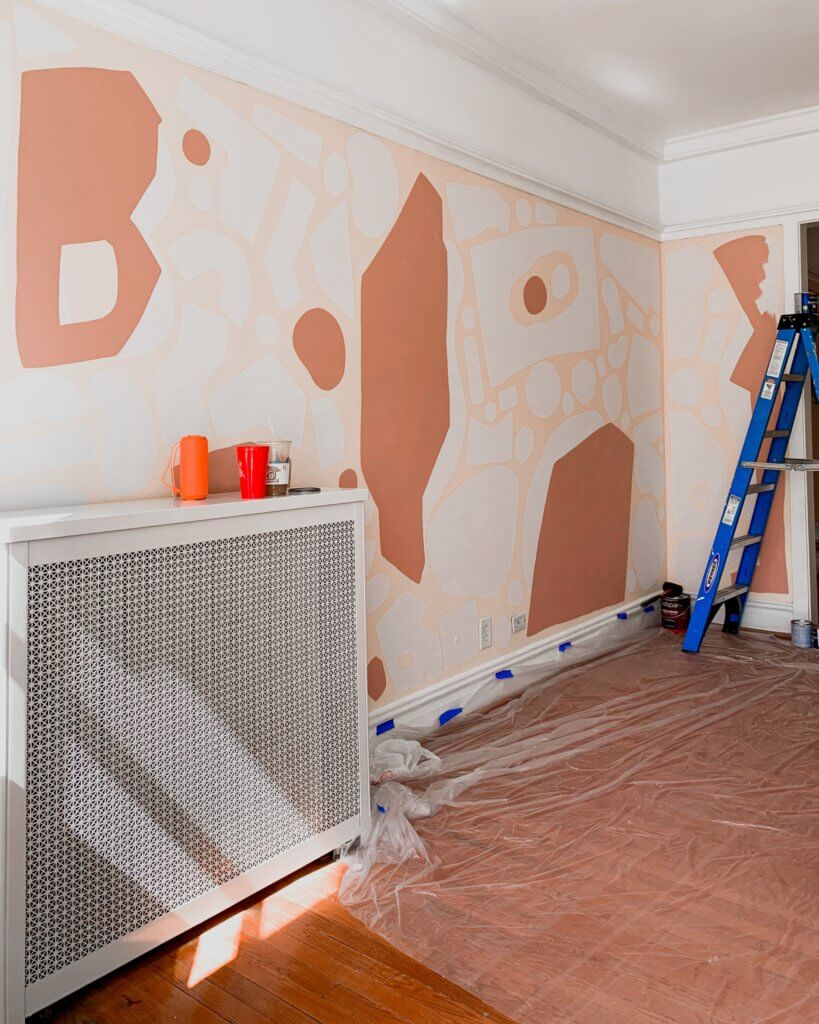 Anti EMF paints can be an alien topic to many. It isn't still widely popular but people are getting used to it gradually. So, buying the right EMF blocking paint can be confusing as there are not enough guides. Here, I will cover the most vital aspects of EMF blocking paints that you should look for when buying:
Attenuation
Attenuation is a very common term to network specialists, but not so to general people. So, when purchasing anti-EMF paints, knowing that there's an attenuation value can perplex you. It means the weakening of signal strength. It has a broad interpretation but that's all you need to know when buying EMF blocking paints.
This value shows how much signal is weakened with per layer application of the paint. It is measured in decibel (dB). Usually, 30-40 dB per layer is considered good.
Biocompatibility
Regular paints often contain ingredients that are mildly harmful to people. As you are exposed to the paint you use in your house 24/7, that 'mild' can sum up to be quite big. If the EMF blocking paint you are using contains harmful materials like graphene, other solvents, materials that emit bad odor, it will do more harm than good.
Make sure the product you are getting is free from all those materials and certified by top testing companies.
Adhesiveness
The anti-EMF paint that you are going to use isn't your final paint. For better aesthetics, regular paints are used on top of it.
So, make sure your anti-EMF paint has better adhesive properties so that it adheres to the latter paint properly.
Coverage
Coverage is measured in square meters per liter. This means the area that each liter of the paint will cover. Anti EMF paints are costly.
And unlike regular paints, (most) EMF blocking paints require multiple layers to work. So, having a high coverage is always economical.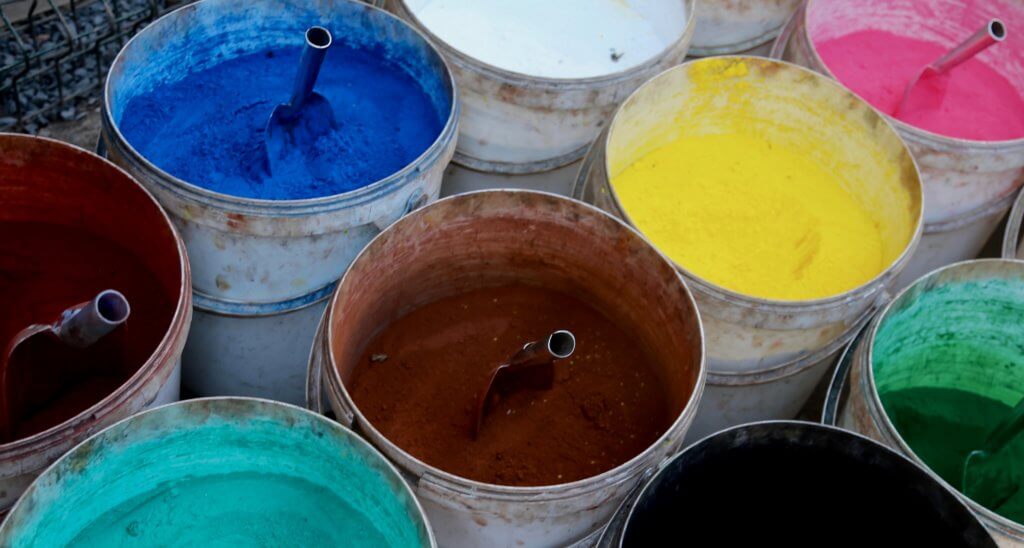 Frequently Asked Question
Does EMF Blocking Paint Actually Work? 
EMF blocking paints do work. They come in black coloring which itself is known to absorb EMF. What makes it better than normal black wall paint is that it has a conductive base which works to block EMF. 
What is EMF Paint Made Of? 
Besides the paint itself EMF paints contain certain other materials that block or absorb EMF. Such as carbon, silicate etc. 
What Colors Do EMF Paints Come In? 
Sadly, EMF paints come in only black as this color is a contributory part of its EMF blocking capabilities. 
Can You Paint Over EMF Paint? 
Once the EMF paint has dried you can definitely paint over it. While that is not advised as that would create a reflective surface for various electromagnetic frequencies to bounce off. 
EMF blocking paints are gaining popularity day by day. People are becoming more aware every day thanks to globalization. Like anything else that is unknown to you, buying the right EMF blocking paint for your home can be puzzling. It's a hefty investment. So, getting the wrong one will be regretful.
In this article, I have mentioned the 5 best EMF blocking paints that you can choose from. All of them work great and shall serve your purpose. Once again, if you are looking for my suggestion, go for YSHIELD® HSF54 Standard shielding paint. I can assure you that you won't regret it.