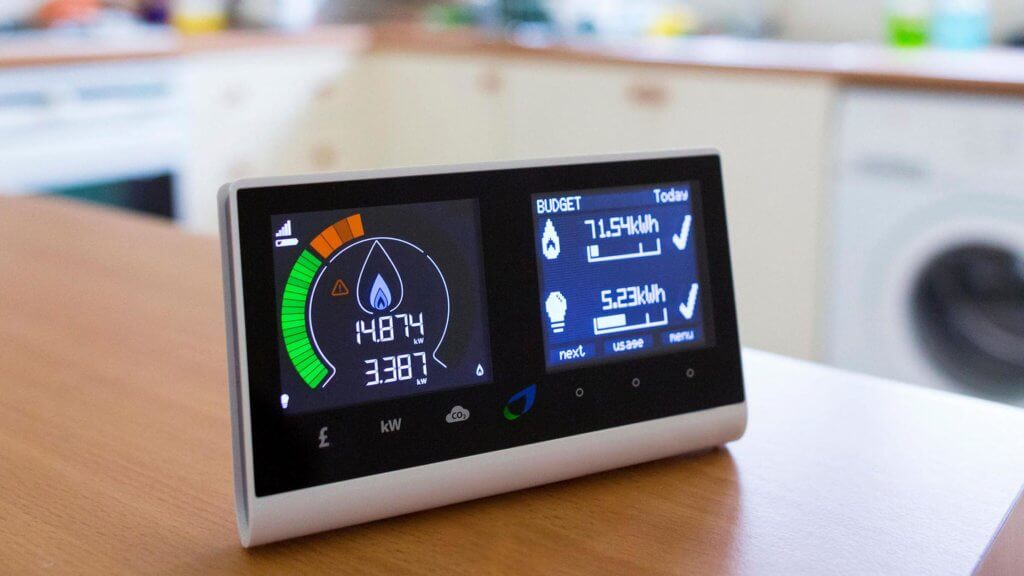 With a lot of people across the UK now having smart meters installed, we thought it is time to have a look at the dangers they present in terms of EMF and how to protect yourself.
According to the Department for Business, Energy & Industrial Strategy as of the end of March 2020, there were 21.5 million smart and advanced meters in Great Britain. If you don't already have a smart meter, your gas and electricity supplier will soon be asking if you want one installed. The installation of smart meters is a government initiative whereby all energy companies must aim to install them in every home in England, Wales and Scotland. This directive doesn't mean that you have to have one, however, but the clear inference is that they are a good thing.
Our Picks
Product
Mission Darkness Titan RF Faraday Fabric
EMF Protection Fabric From Blocwifi
Blocwifi Extremely High RF Protection Fabric
LVFEIER EMF Blocking Fabric
Earth Grounding /EMF RFI Shielding Fabric by Sviidge
Amradield Military Grade Fabric
Product
Mission Darkness Titan RF Faraday Fabric
Product
EMF Protection Fabric From Blocwifi
Product
Blocwifi Extremely High RF Protection Fabric
Product
LVFEIER EMF Blocking Fabric
Product
Earth Grounding /EMF RFI Shielding Fabric by Sviidge
Product
Amradield Military Grade Fabric
Last update on 2023-12-03 / Affiliate links / Images from Amazon Product Advertising API
What Is A Smart Meter?
These are the new meters which measure how much gas and electricity you have used and will replace the old familiar type of energy meter. There are two types of the new meter; the advanced meter which gives information directly to the supplier, and the smart meter which communicates between the customer and the supplier. Most people have a smart meter type.
The new meter consists of two parts; the meter itself which fixes to a wall where your old one used to be, and a portable display screen which you can move to any convenient position in your home. The meter sends information to the display screen so that you can see how much energy you are using at any given time, how much you have used and how much it costs you. The display acts in near real-time for electricity information and with a half-hour interval for gas.
Why Are Smart Meters Being Installed?
The information from your smart meter is sent to your energy company and makes it easier for them to bill you accurately for the amount of gas or electricity you have used. This system replaces the old way of doing things when someone came to your home to read your meter. Energy companies argue that smart meters give more accurate bills without the need to estimate energy consumption and gives you more control over what you use, thus saving you money. The converse side of the argument is that some people have found it difficult to change suppliers after they installed a smart meter.
What Is The Danger To Health?
Whatever the arguments for and against the usefulness of smart meters, one thing they all have in common is that they emit EMF. This emission is due to two microwave transmitters; one to communicate between the smart meter and supplier, and the other to scan the devices in your home for usage. This communication is happening via radio-frequency EMF signals.
The problem is that when communicating, the meter emits pulses of non-ionising radiation. These pulses would not be such a problem if the electromagnetic field were constant because your body could adjust to it and protect itself. However, because the radiation comes in pulsed bursts, your body can't normalise it satisfactorily. Some readings have recorded pulses of up to 190,000 a day.
Whilst Public Health England insist that there is no danger from smart meters, there is evidence and anecdotal information which warns us to be careful. Some people are just refusing a smart meter outright because it may cause a health problem.
Problems reported include headaches, sleep disturbance and anxiety, and these are just a few of the types of reaction to pulsed microwave signals. There is already research which shows that there may be a link between migraine headache and low-frequency EMFs in the case of mobile phones. Daniel Hirsch, the radiation expert from the University of California, San Diego, tells us that smart meters can expose us to as much as 160 times the microwave radiation as smartphones. If we heed his warning, there is a case for taking care to reduce your exposure to the EMF from your smart meter.
Smart Meter Shields In The UK
In America, there is more awareness about exposure to EMF from smart meters than in the UK, and there are products on the American market made specifically to shield users from their smart meters. The problem in this country is that there are no shields made for smart meters, and the American ones will not fit British meters because the American smart meters are circular and the British ones are rectangular.
The best option appears to be buying EMF protection fabric, and then either cutting it to make a Faraday cage type shield or using it to cover that part of the wall to which the smart meter is attached.
Electromagnetic Shielding
Electromagnetic shielding is the ability to reduce the EMF (electromagnetic field) or RF (radio frequency) electromagnetic radiation by blocking it with conductive or magnetic material. The effectiveness of the blocking is determined by the type of material used, how thick the material is, the volume of the shielded area, how well it covers the area to be protected, and the frequency of the electromagnetic fields measured in hertz (Hz).
Typical metals used for shielding include silver, nickel, copper, brass, tin and steel. How well a shield works depends on the metal used and its properties in terms of conductivity.
Our Selection Of EMF Shielding Fabric
To help you with your search for an EMF shield for your smart meter, we have researched the products available and come up with our list of the best eight on the market.
Mission Darkness TitanRF Faraday Fabric Kit 44″ x 36″ (.91m x 1.1m) + Extra 36″ (1.1m) TitanRF Tape // Military Grade Conductive Material Blocks RF Signals WiFi Cell Bluetooth RFID EMF Shielding
✅ HIGH-SHIELDING FARADAY FABRIC – TitanRF Faraday Fabric is trusted and used worldwide by military and law enforcement forensics investigators to block all wireless signals. Additional applications include making faraday bags, RF enclosures, signalproof rooms or tents, EMP protection, personal data and identity protection, signal isolation in secure facilities, RF isolation for hardware and software testing, harmful EMF radiation reduction, digital privacy, and more.
✅ LAB TESTED & CERTIFIED – MIL STD 188-125 and IEEE 299-2006 shielding effectiveness confirmed with full test reports, available upon request. This conductive textile is the same fabric used in the top rated Mission Darkness faraday bag line.
✅ RF SIGNAL BLOCKING – High-shielding nickel and copper composition faraday cloth blocks WiFi (2.4 & 5GHz), Bluetooth, cell signals including 5G networks, GPS, RFID, and radio signals from low MHz to 40GHz. EMI, RFI, and EMF radiation shielding.
✅ LARGE DIMENSIONS – Fabric sheet is 44in wide x 36in long (.91m x 1.1m) / 11 sq. ft. / 1.22 sq. yds. Surface resistance approximately .5 Ohm/sq. It can be cut, sewn, and taped like standard fabric to create your own shielding enclosure. Kit includes a bonus 36″L x 1″W strip of TitanRF Faraday Tape (high-shielding conductive adhesive) for connecting fabric sheets and sealing enclosures.
✅ HOW TO USE & TEST – To ensure maximum success with your RF/EMF/signal blocking project, make sure your expectation is understood. For example, EMF reduction is very different than complete signal blockage. The methods of accomplishing your goals may vary based on the environment and your desired result. We include instructions to help with your assembly and shielding effectiveness testing methods. If you are not clear on what you are trying to accomplish, contact us to discuss your project.
Last update on 2023-12-03 / Affiliate links / Images from Amazon Product Advertising API
This fabric is a military-grade certified blocking material. The fabric is composed of high-shielding copper and nickel and comes in sheets measuring 91cm x 112cm. It has very high conductivity and has been independently tested and certified to meet military standards for this type of shielding material. You can cut, tape and sew the fabric into a Faraday shield for your smart meter or use it as a curtain. It is also washable.
The material blocks WIFI, Bluetooth and 5G networks. It also reduces EMF RFI, RF and EMI with 80dB to 100dB shielding rate from 10MHz to 5GHz.
It is probably no surprise that Mission Darkness comes top of our list. It is an excellent product from a well-known company in the field. If you want to reduce your exposure to EMF radiation from your smart meter, you would be hard pushed to find something better. The price is not bad either.
EMF Protection Fabric Faraday Fabric RFID Shielding Nickel Copper Fabric Military Grade Fabric Blocks RF Signals 44 * 36 inch
EMF PROTECTION: 1 yard (44''x36'') RFID EMF Shielding fabric. High Grade Shielding Fabric Made of 20% Nickel copper and 80% polyester. EMF Shielding fabric blocks the cell Phone, WIFI and Bluetooth signal. Shielding rating is from 10Mhz to 5Ghz.
REDUCE RADIATION: The Faraday fabric is very effective to remove us from the harmful effects of the radio waves, WIFI signals or electromagnetic fields in our daily life. Nickel Copper blend prevents most WIFI, cell signal, and radiation from going through. Wrap the devices or put is in the front of your laptop, the RFID fabric will keep the radiation totally away from you.
STOP CARD IDENTITY THEFT: This Shielding Nickel Copper Fabric can be used to line in your pockets, purses, and to wrap your credit cards, to line your hat, or to make a pouch for your cell phone, smart key, or anything that accepts or transmits these types of signals. Prevent information leakage and prevent information theft.
EASILY CUT: It is easy to cut and sew for EMP protection,1 yard fabric is long enough to cut as needed. Reduce the radiation generated by 5g base stations and 5g mobile phones.
SATISFACTION GUARANTEED: We want you to be satisfied with every purchase you make. If you are in any way dissatisfied with this product you ordered, we'll exchange it, replace it or refund your money within 60 days of purchase. Simply e-mail us the problem, and we'll take care of you.
Last update on 2023-12-03 / Affiliate links / Images from Amazon Product Advertising API
This product is a high-grade shielding fabric made of 20% nickel/copper and 80% polyester. It comes in a roll measuring 111.7cm x 91.4cm (the old-fashioned yard of material). It can be cut, sewn or folded into any shape you like; therefore, it wouldn't be a problem to make a smart meter shield. The material is lightweight and not affected by humidity.
The fabric blocks radio waves and EMF, WIFI and Bluetooth signals with reported effectiveness of 99%. The RF shielding rating is from 10MHz to 5GHz.
Our verdict on this Faraday fabric is favourable. All the reports we have heard about it indicate that it is a versatile fabric which is very useful. It comes at a great price too, so it is one of our top picks and should be high on your list of possibilities.
BlocSilver EMF Protection Fabric Ideal Wifi and Smart Meter Blocker Silver Net (100 centimeters x 150 centimeters)
GREAT VALUE. BlocSilver has amazing shielding capabilities whilst remaining great value compared to other shielding fabrics
AMAZING EMF SHIELDING. As we continue with our partners to develop our own performance brand emf-protection fabrics, we are particularly excited by our 3rd generation of the already popular Blocsilver. Blocsilver 3 has an increased silver (the expensive bit that reflects RF) content raising its emf protection
WASHABLE. Bloc Silver is washable, however, can only be washed up to 40 times. Further washing and drying instructions is included with the product
BREATHABLE. Great emf shielding whilst remaining breathable
5G PROTECTION. 39.7dB emf shielding at 10GHz! Will help to protect against high frequency 5G radiation.
Last update on 2023-12-03 / Affiliate links / Images from Amazon Product Advertising API
The advertising for this product indicates that it is an ideal WiFi and smart meter blocker. You can buy it in sizes from 100cm x 150cm to 500cm x 150cm. The fabric consists of silver-coated nylon, but it is mainly silver. This silver content is probably why it is quite expensive. The fabric is breathable and washable, but only up to 40 washes, if you need to wash it further, you should read the instructions included with the fabric. The fabric can be cut and sewn.
This Blocwifi fabric shields against 5G radiation and EMF shielding is at 39.7dB at 10GHz (As a guide, 20dB shielding reduces EMF strength by 90%). From the reports we have had, it appears to block the EMF from your smart meter effectively. The fabric is conductive so it would need to be earthed if near live wires.
Our verdict on this product from Blocwifi is that it will do the job, but it is a bit expensive. It is quite flimsy so it would be difficult to make a Faraday cage from this fabric. It would, perhaps, be better to use it as a curtain for the wall on which the smart meter is located.
Last update on 2023-12-03 / Affiliate links / Images from Amazon Product Advertising API
If you want to make a Faraday cage for your smart meter, you may find that a Blocwifi more robust material is a better choice. This material is much cheaper but only available in 108cm x 100cm sheets. It could, however, be wrapped around your smart meter to provide an effective shield.
It is made of polyester with nickel and copper plating and is conductible. The fabric has a very high shielding potential, with a minimum of 75dB at 30MHz to 91.7dB at 1.5Ghz.
Our verdict is that this product has excellent reviews and seems to do a handy blocking job at a fair price.
Conductive Fabric Suitable As Faraday Fabric to Make Faraday Cage, Faraday Cloth Has Visible Conductive Thread, Good to Use As Conductive Cloth
Look at the grid structure on the Conductive Fabric! This is real Faraday Fabric. Highly conductive threads are cross-woven into the Conductive Fabric.
Provided in aerospace standard size of 42.4" x 36.2" Originally used in air cabins, this Faraday Cloth is now available to private households to transform your room into a Faraday Cage. Put it under carpet, tile or laminate. Protect yourself even from the neighboring apartment. 1.2 sq. yards. / 10.8 sq. ft.
As a tear-resistant space fabric, this Aerospace Material is used for years to shield aircraft cabins. Up to 20% millimeter fine conductive threads of copper/nickel were used for this high performance Nasafes Conductive Fabric. Produced for a maximum temperature of minus 455 °F
Phone Fabric – Make phone case for cell phone. Make your own faraday cages, smart meter guard cover, anti-static cloth, e-textiles, curtain. High conductive fabric against RF signals such as cell, Bluetooth, WiFi, GPS. As an insert in the wallet it acts like rfid sleeves for credit cards.
Faraday Bags – Cut the rfid fabric to the desired size and make a faraday bag to prevent signal relaying car theft. Particularly for keyless entry and keyless go systems. Cost – effective alternative to conventional Faraday Bags. We will provide you with a complete solution.
Last update on 2023-12-03 / Affiliate links / Images from Amazon Product Advertising API
This Nasafes fabric is composed of 80% polyester and a 20% nickel/copper mesh. Although it has the thickness of paper, it is adaptable enough to be cut and sewn. The fabric comes in sheets about 92cm x 108cm but is also available in larger sizes. It is good quality, washable, material and can be made into a practical Faraday cage.
This high-shielding conductive fabric blocks EMF. EMP, EMI, RFID and RF signals. The shielding range at 120MHz is 85dB and at 1200MHz is 78dB. Above 3700MHz the attenuation is 55dB.
We have observed that this fabric has had mixed reviews, but most were favourable, and it appears to block EMF from a smart meter effectively. It is not the cheapest product on the market, but it is an excellent middle range buy.
LVFEIER Radiation Protection/Conductive/RFID Shielding/EMF Blocking Fabric 39.37X42.5 Inches Width Including Silver ions-Blocking WiFi-Anti-Prevent Electronic Information Leakage
Used for making radiation protection curtains (hard texture), radiation protection mobile phone pocket, passport cover radiation protection computer cover, mainframe chassis cover
Used for high-level electromagnetic shielding, such as: control space electromagnetic interference, anti-electronic information leakage, to ensure information security; suitable for field operations, electronic defense
Effective shielding for high frequency electromagnetic, such as: industrial high frequency road, mobile communication, household appliances, signal transmission stations, medical instruments and other industries
Military information security products, shielding tents, shielding room special radiation shielding cloth
It has good protection performance for electromagnetic radiation of radio and television transmission towers, signal transmission towers, all communication base stations, repeaters, WiMax base stations, WiFi base stations, and various wireless transmitting devices.
Last update on 2023-12-03 / Affiliate links / Images from Amazon Product Advertising API
This Lvfeier product is a woven fabric composed of copper and nickel filaments which are very conductive. The material comes in sheets about 100cm x 108cm. It can be cut and sewn into whatever shape you want, or you can use it as a curtain. Reports suggest that it forms a good Faraday cage for your smart meter.
The Lvfeier fabric has high-level electromagnetic radiation shielding – 1500MHz frequency at 59.7dB attenuation. A smart meter should work as usual when protected by the material, but it will weaken the signal.
We think that this is a versatile fabric, and the price won't break the bank.
Earthing Grounding/EMF RFI Shielding Fabric/Conductive Fabric Copper Nickel Multi-Metallized (78″x43″)
Anti-static and conductive fabric, radiowave/microwave shielding fabric,RF/RMI/EMF/RF blocking
Cuts and sews like ordinary fabric easy even to fresh people
Copper+Nickel+polyester fabric earthing/grounding,electromagnetic radiation shielding fabric
Material:copper+nickel+polyester, Color: plaid silver, Width: 43″ More continious meters are available
Usage for Screening,Curtains,Tents,etc.Effective Shielding for CellTowers,Microwave Signals,Phones,Smart Meters,Security Systems, Radar, Military Broadcast, etc and More
Last update on 2023-12-03 / Affiliate links / Images from Amazon Product Advertising API
This Sviidge fabric is a copper, nickel and polyester fabric which can be cut, sewn and folded. It comes in various size rolls from 99.1cm x 109.2cm to 299.7cm x 109.2cm. It is conductive and needs to be earthed.
It shields microwaves, radio waves, and blocks RF, RMI, RFI and EMF. It has frequency ranges of 0.1MHz to 20GHz and EMF shielding greater than 70dB.
This fabric appears to be completely effective, and you can tailor it to fit your smart meter. It comes in at a reasonable price and looks to be a good buy.
Last update on 2023-12-03 / Affiliate links / Images from Amazon Product Advertising API
This material is roughly the same thickness as paper but can be cut and sewn. It is composed of copper, nickel and polyester and comes in 100cm x 108cm rolls, but you can get longer rolls. You can use it as a curtain or make it fit your smart meter.
It has an attenuation of 95dB from 30MHz to 18GHz. The material is highly conductive and will reduce EMF, EMI and RF radiation and should be earthed.
The information on this fabric tells us that it is a military-grade, so it is quite robust. It is at the lower end of the price range and could well be worth trying out.