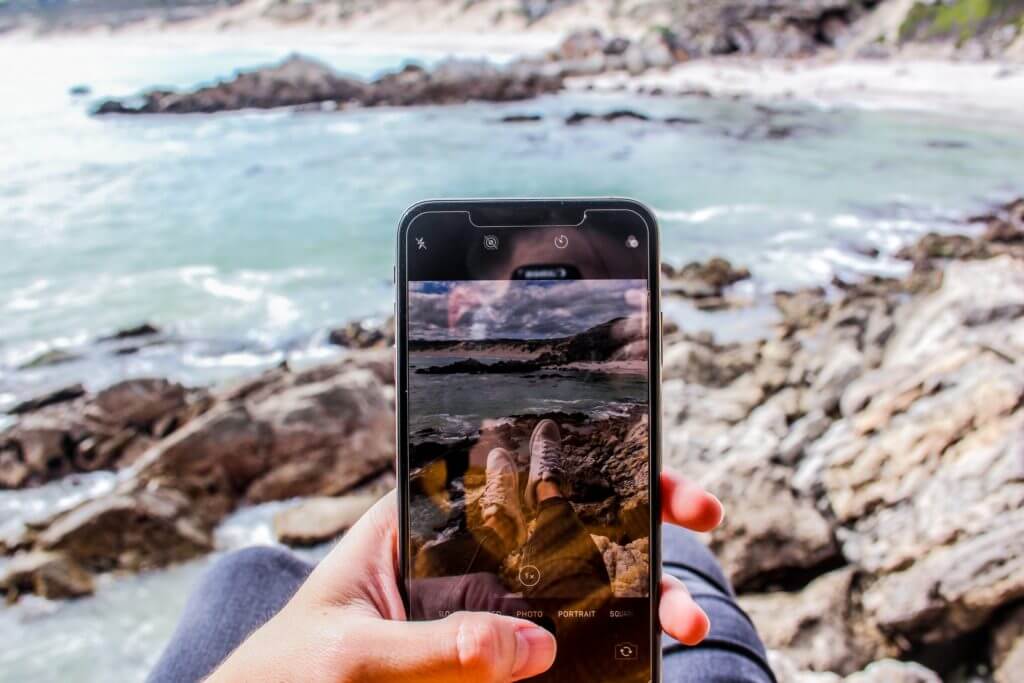 You haven't got to look far to see that the UK population is fascinated with their smartphones. An Ofcom survey from 2018 said that 71% of people never turn their phone off, and 78% say they couldn't live without their phones. With the average Brit spending almost one day a week on their phone, and 16-24-year-olds exceeding that,  people are getting prolonged exposure to the electromagnetic fields (EMFs) from their phones. So it's about time we took a look at how to reduce those EMF levels. To help with this, we have identified some of the best EMF blocking mobile phone products.
The thought that there may be radiation coming from the EMF energy in your phone is there at the back of peoples' minds, but not everyone does something about it. Can this radiation harm you in the long term? Well, there is no data to prove that it doesn't. There is nothing to confirm that the current and projected future level of mobile phone use is safe. 
The results of some studies have added to our caution about the safety of mobile phones. One of these was the Interphone study which concluded in 2010 and was the most extensive case-control study of mobile phone use. It looked at the risk of head and neck tumours from mobile phones and involved researchers from 13 countries. One of the study's findings indicated that there was an increased risk of glioma associated with the highest exposure levels. However, certain errors and biases within the survey meant that the study could not attribute these levels as a direct cause. 
It is a sobering thought to consider how much the level of mobile phone use has increased since 2010 and it highlights the need for further investigation into the health effects of heavy, long term mobile phone use.
For us, it's beginning to make sense not to ignore any link between prolonged mobile phone use and some health issues such as cancer and cardiovascular problems.
Our Picks





Product
WaveWall 'Flip' Anti Radiation Mobile Phone Case
SafeSleeve Anti Radiation RFID iPhone Case
RadiArmor Anti-Radiation Case
Mission Darkness Non-Window Faraday Bag for Phones
Silent Pocket Quick Access Utility Faraday Bag

Product
WaveWall 'Flip' Anti Radiation Mobile Phone Case

Product
SafeSleeve Anti Radiation RFID iPhone Case

Product
RadiArmor Anti-Radiation Case

Product
Mission Darkness Non-Window Faraday Bag for Phones

Product
Silent Pocket Quick Access Utility Faraday Bag
Last update on 2021-04-12 / Affiliate links / Images from Amazon Product Advertising API
A Word About EMF Blocking
We want to make it clear right from the outset that there are a couple of things you should know when considering mobile phone cases which claim to block EMF:
No phone case will block EMF if you don't use the case in the right way. For example, with flip phone cases, you need to flip the cover down to make sure the shielded front cover containing the EMF blocking material is between you and the phone when you are using it. If not, you could be doing more harm than good by increasing your radiation exposure, in some cases doubling it. 

You should be wary about product claims about the amount of EMF they are claiming to block. They may be referring to the EMF shielding potential of the material in ideal laboratory conditions rather than when used in the actual product.
Have a look at this news piece from a year ago, where an EMF expert shows that these cases do reduce EMF if you use them in the right way. 
As with any wave of new awareness about an issue, masses of products go on the marketplace, all claiming to be the latest and greatest. That's why we have done the hard work for you and researched the best EMF blocking phone cases available.
Our goal here is only to help you find a quality case which will reduce EMF radiation exposure.
Choosing Your EMF Blocking Mobile Phone Case 
There are several things to consider when choosing your mobile phone case, depending on the level of protection you feel is right for you.
You might decide you want the full protection of a Faraday case. This type of container blocks all radio frequency signals from being sent or received and gives you complete digital privacy. For instance, it can protect against remote hacking or cloning, such as is used in digital theft from credit cards and car key scanning. This method of actually placing the phone in a Faraday bag has become more popular, not only for EMF protection but for the impact a phone in your room can have on your mental and physical health. This study shows the effect of having your phone in your bedroom can have on your Body Mass Index. However, the Faraday case is not suitable for all occasions, and you may want an EMF-blocking phone case instead. We have thrown one Faraday case into the mix for your interest. You may wish to use the Faraday bag at night to cut out EMF in the bedroom entirely.
Benefits Of EMF Blocking Phone Cases
They shield you from the possible harmful effects of EMF. Whilst scientific opinion does not yet agree about the dangers of EMF, a phone case which protects you from any level of additional radiation is undoubtedly an advantage.

If you want to remove the possibility of criminal hackers gaining access to the personal data on your phone, it makes sense to be able to block your signal.

EMF blocking phone cases which have enough room for your credit card and key fob are also advantageous because hackers will then be unable to access the RFID information from those items.
If you don't feel you need such a high level of protection, you could choose a case which emphasises blocking EMF radiation from the front of the phone. Using this type of case will give you a level of protection from non-ionising radiation.
Here are five of the best products on the market, and we have provided some information about each of them.
Anti Radiation Phone Cases
These are conventional mobile phone cases made to fit your phone, but which also reduce your exposure to EMF whilst using your phone.
WaveWall 'Flip', Anti Radiation Mobile Phone Case, with Tested Radiation-Shielding Property, Non-Toxic Premium Leather Protective Cover, for Reduced Exposure from EMF, Apple iPhone iPhone 5/5S – RED
THE BEST ANTI-RADIATION PROTECTION CASE IS FINALLY HERE! Compatible with several mobile phone models, our stylish, vegan-friendly, radiation reducing case will reduce the amount of radiation you are being exposed to almost every day – the very same radiation that WHO has listed as a Class 2B Carcinogen!
KEEP YOUR HEAD AND BODY SAFE FROM RADIATION! Even cell phone manufacturers warn that it's best to keep your phone away from your body because the radiation exposure can exceed FCC regulations; thankfully, your new protective case blocks up to 87% of EMF radiation!
SCIENTIFICALLY PROVEN & INDEPENDENTLY TESTED! Unlike many products in the market including pendants, charms, and various similar trinkets which have no scientific proof that they actually work, the WaveWall flip case was independently tested and proven to be a great anti-radiation protection aid!
SLEEK & ULTRA PRACTICAL DESIGN! Made of premium quality, vegan friendly leather, and featuring a practical magnetic closure and holes for your headset's jack, your charging cable, and your camera lens, this amazing case isn't only handy, it is also great to look at!
ORDER NOW WITH FULL CONFIDENCE! We have given our best in order to provide you with a high-end quality cell phone case that will protect you from EMF radiation at an amazing price. However, if you aren't perfectly happy with your purchase, you have 30 days to return it and get a full refund!
Last update on 2021-04-12 / Affiliate links / Images from Amazon Product Advertising API
This offering from WaveWall is compatible with many iPhones, Nexus and Samsung Galaxy phones. There is also a WaveWall Universal model which fits most other makes of phone. It is a vertical 'flip' case which means that it opens in the same way you used to access your old flip phone. It has a red front with red stitching and a black back. There is metallic fabric sewn into the lining on the front side to deflect the radiation. It is also vegan-friendly. This good looking case is well constructed, and there is also a pocket for your credit card on the inside. Testing has shown that it reduces SAR (Specific Absorption Rate) by 87%. 
The WaveWall 'flip' case protects not only your phone from accidental damage, but also protects your body and your head from radiation when in use. However, you must remember to flip the cover closed to protect yourself from the harmful effects of radiation.
It is well-known that the World Health Organisation has highlighted that radiation from mobile phones is possibly carcinogenic. The WaveWall case bounces mobile phone radiation away from your body but allows you to use your phone in the usual way. The product is handmade from high-quality vegan-friendly faux leather, and the design will enable you to carry out audio, charging and camera functions without removing your phone from the case.
SafeSleeve Anti Radiation RFID iPhone Case: iPhone X and Xs ELF & RF Blocking Identity Theft Protection Wallet (Red)
LAB TESTED PROTECTION – FCC accredited lab tested shielding technology embedded in front flap blocks up to 99 percent of ELF and RF cell phone radiation; The SafeSleeve Anti-Radiation iPhone X (10) wallet case keeps your information safe
MILITARY GRADE SHIELDING – Integrated into the front flap. Including the latest cellular radio frequency identification technology, each iPhone case features robust material as a protective blocker against identity theft
BUILT-IN WALLET – Put that mobile protection to use with a full wallet; the card holder area carries up to 4 credit or business cards, plus room for cash and additional documentation to keep safe
BUILT-IN STAND – Use your SafeSleeve's built-in kickstand to quickly prop up your phone for reading, video, and movie watching; if you've got a flat surface nearby, you can use your phone hands-free
VEGAN LEATHER – Rare among iPhone cases, our vegan leather construction provides a rich, professional look while remaining free of animal products; the perfect iPhone X (10) cases for men and women
Last update on 2021-04-12 / Affiliate links / Images from Amazon Product Advertising API
This case is available for a wide variety of iPhones and comes in several colours. Unlike the WaveWall 'flip' case, this case opens with a front flap which you should close when you are making or taking your calls. Embedded in this front flap are materials which block 92% of ELF (Extremely Low Frequency) and 99% of RF radiation when using the phone case correctly. Scientists test these materials in an accredited FCC (Federal Communications Commission) laboratory. Apart from giving you protection from EMF radiation, the radio frequency identification technology embedded in the case also prevents identity theft.
This SafeSleeve case is made from vegan leather so that it has the luxury appearance of real leather, but there are no animal products used in its construction. It is also robust enough to protect your phone from accidental damage. Another useful feature is that it has a built-in wallet for bank cards, id cards or other documents as well as money. The advantage here is that the RFID blocking will keep your bank cards safe.
Also, another handy feature is that the case can fold back as a stand for hands-free use for viewing videos or reading.
RadiArmor Anti-Radiation Case – Compatible iPhone Xr – Lab Certified EMF Protection (Slate)
OVERVIEW: RadiArmor has brought its EMF blocking technology to the iPhone XR with a meticulously crafted wallet case made from durable vegan leather and lined with our proprietary anti-radiation membrane.
LAB TESTED: RadiArmor cases are tested in a certified and independent laboratory using testing procedures that simulate a phone call held to the ear. Our EMF material blocks over 99% of high frequency RF radiation and offers an effective reduction of 91% during a call or while in your pocket.
INTEGRITY: Many manufacturers claim 99% EMF protection, but are referring to their radiation blocking material, NOT the protection you are receiving. Putting a sticker that blocks EMF on the back of your phone offers zero protection to you on a call. Conversely, covering your whole phone with EMF blocking material would result in no signal. Our EMF blocking material is used throughout the front cover only, providing you real protection without compromising reception.
PLEASE DOUBLE CHECK – Many people buy the wrong size case. This listing is for the iPhone XR (10)R ONLY. The smaller iPhone XS and larger XS Max are available under a separate listing. If unsure, please reference the size chart.
International products have separate terms, are sold from abroad and may differ from local products, including fit, age ratings, and language of product, labeling or instructions.
Last update on 2021-04-12 / Affiliate links / Images from Amazon Product Advertising API
The RadiArmor is compatible with many iPhones. The cases come in a number of colours, all made from vegan leather, but looking like the real thing. As in other similar products, the lining of the case contains an anti-radiation membrane in the front cover. 
The company is very straightforward about the protection on offer. It states that the high-frequency EMF protection offers over 99% blocking of radiation, but qualifies this with a more realistic figure of 91% when the phone is in use. These figures are very impressive and are some of the highest levels of protection from radiation, from a phone in use, you could hope to find. For the cover to work correctly, the front should be closed when making or receiving calls.
This phone case looks similar to the SafeSleeve case. It closes with a magnetic clip and has three compartments for bank cards as well as a pouch for larger items such as money. The RFID protection which this case affords will protect the digital data on your bank cards from being illegally accessed.
Again, as with the SafeSleeve, the case folds back so that it can be used hands-free.
It is a handsome case which should fit your phone well. It is also sturdy enough to protect your phone from accidental damage. 
Mobile Phone Containers Which Give Faraday Protection
These are bags and sleeves used to carry your phone and other electrical devices which you wish to keep secure from outside interference. 
Mission Darkness Non-Window Faraday Bag for Phones // Device Shielding for Law Enforcement, Military, Executive Privacy, Travel & Data Security, Anti-hacking & Anti-tracking Assurance
✅ MILITARY-GRADE FARADAY BAG – Designed for military and law enforcement forensics investigators; also used for government and executive travel, personal data security, signal isolation, EMP/CME protection, and EMF reduction.
✅ MIL-STD-188-125 CERTIFIED – EMP (Electromagnetic Pulse) protection approved! Tested and compliant to MIL STD 188-125 specifications by Keystone Compliance (report available upon request). Preserves the working integrity of electronic devices in the event of EMP or CME.
✅ RF SIGNAL BLOCKING – 100% shielding of WiFi (2.4 & 5GHz), Bluetooth, cell signals including 5G networks, GPS, RFID, and radio signals with 60-80dB average attenuation. EMI, RFI, EMF radiation shielding.
✅ UNIVERSAL FIT FOR ALL CELL PHONES – Exterior (when open): 9.75″L x 9.5″W (25cm x 24cm). Interior (device must fit inside these dimensions): 5.5″L x 9″W (14cm x 22.86cm). Secure double roll and Velcro closure.
✅ BAG FEATURES – Unique serial number for asset tracking, transparent pockets on back to place company information/evidence card, built with water-resistant ballistic nylon outer material and two interior layers of high-shielding TitanRF Faraday Fabric on all sides. Made in the USA!
Last update on 2021-04-13 / Affiliate links / Images from Amazon Product Advertising API
This Mission Darkness container is not a case which fits your phone, but rather a robust bag to keep your sensitive electronic devices secure from outside interference. If you are looking for something which will protect not only your phone but also keys and bank cards in one handy container, this could be the one for you. 
Mission Darkness has come up with quite a large bag with outer measurements of 25cm x 24cm x 0.6cm, and inner usage space of 14cm x 24cm, but it rolls up into a handy package which can be closed with a hook and loop. It is protected on the outside by high-grade, water-resistant, abrasion-resistant, ballistic nylon. The manufacturer designed this bag for use by law enforcement and military personnel, so it is a sturdy piece of kit which fits all mobile phone sizes. 
As well as shielding your phone from RF (Radio Frequency) signals and reducing the effects of EMF radiation, it also protects against EMP (Electromagnetic Pulse). The case has two layers of high-shielding fabric on all sides which shields your phone and key fob from all wireless signals such as RFI (Radio Frequency Interference) and EMF radiation. There is total shielding of WiFi 2.4 and 5GHz as well as Bluetooth, 5G networks RFID (Radio Frequency Identification), GPS (Global Positioning Systems) and radio signals with 60-80dB average attenuation.
Silent Pocket Quick Access Utility Faraday Bag – Waterproof Signal Blocking Nylon – Device Shielding for Small Phones and Keyfobs for Travel, Privacy, Data Security, Anti-Hacking – Multiple Colors
TRUSTED BRAND & TECHNOLOGY: Silent Pocket is the only patented Faraday Cage system on the market. Our proprietary anti-hacking and anti-tracking wireless shielding technology is trusted by the US Government and Global Enterprise Companies. When it comes to your safety and data security, trust the best!
MANY USES: Made with durable high-grade waterproof ballistic nylon, our X-Small faraday bag (10.5 x 9 cm) is perfect for flip phones, burner phones, prepaid phones, keyfobs. Features a quick roll-down seal closure + external clear window. Need something bigger? Scroll down for details on our larger sizes (smartphones, tablets, computers)
FOR EVERYONE: Protect yourself from hacking, tracking, data extraction/wiping. Originally designed for law enforcement, forensic investigators to protect digital evidence. Now it is used by military, government, corporations, lawyers, journalists, travelers. Simple & functional design is great for outdoors, police, preppers, and more.
BLOCKS ALL SIGNALS: 100% Signal Blocking Faraday Cage Technology. This Faraday bag is the perfect RFID Blocker. Our technology shields against RFID, WIFI, Bluetooth, NFC, EMP, Solar Flare, Cellular, GPS, Radio – every signal type! Also provides EMF protection against the long term effects of EMF Radiation.
Last update on 2021-04-12 / Affiliate links / Images from Amazon Product Advertising API
Silent Pocket makes several products based on the Faraday cage principle. Their sleeve offers the benefits of anti-hacking, anti-tracking wireless shielding, and the peace of mind that your calls are secure, as well as protecting from EMF. 
The sleeve is soft and durable, made from high-quality waterproof nylon and cow leather. It has a top which flips open, so it's easy to slide your phone in or out. The sleeve comes in several sizes for phones, X-Small (10.5cm x 9cm), Small (15.5cm x 9cm), and Medium (19cm x 11.5cm), which fit a range of iPhone and Galaxy models. Silent Pocket also makes Large and X-Large sizes (22cm x 16cm and 28cm x 21cm respectively), which are useful for tablets of 8 and 10-inch screen size.
The sleeve provides shielding from RFID, Bluetooth, unsecured WI-FI connections, GPS, cellular signals, plus other wireless signals. Most importantly, however, is the protection afforded to the phone user from EMF radiation, EMP and EMI (Electromagnetic Interference).