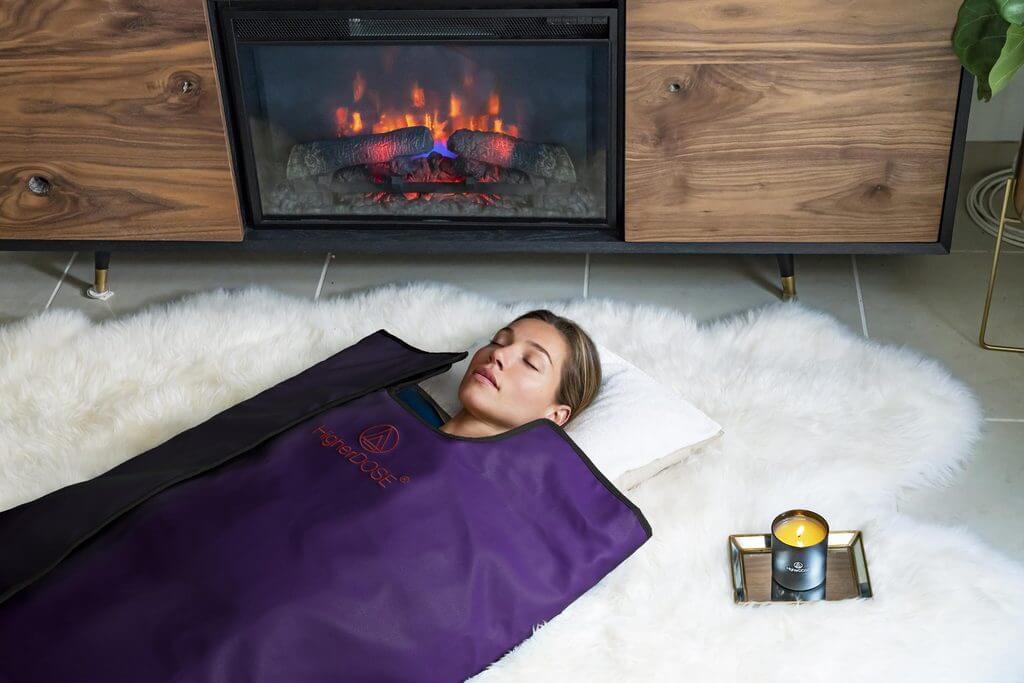 When visiting a spa, a sauna is one of the places that you can go to feel relaxed and rejuvenated. Saunas also have some great health benefits. Sauna blankets are an easy way to replicate the spa like experience at home, without breaking the bank. They are effectively like hot sleeping bags, that use infrared technology to increase the temperature inside the blanket, emulating the effects of a sauna. The infrared light produced by the blanket is turned from light energy to heat energy by your skin.
When looking for a sauna blanket to purchase, there are many things to consider. As these products are electrical, it is important to shop for ones that emit lower amounts of EMF radiation. Additionally, waterproof sauna blankets are more hygienic and durable and blankets with safety features could end up being useful if there is some kind of electrical fault.
Sauna blankets are ideal for compact spaces, and can be easily stored however, if you are looking for a bigger version of a sauna, instead of a blanket, you may want to consider a low EMF portable sauna.
Our Top-Rated Sauna Blankets
In the joint the top spot is the HigherDose Infrared Sauna Blanket V3. This product not only has low emf levels, but excels in functionality as a sauna blanket and seems to have the edge over the competition. It is available in the UK (see the option for UK and EU on the page linked to above). See here for a full review of the HigherDose Sauna Blanket.
In joint top position is the Athnuu zero EMF sauna blanket. This brand is from Ireland and have a history in health and wellness products, which gave me some extra confidence in their sauna blanket. Make sure to check out their website for full details, in the meantime before I do a full review.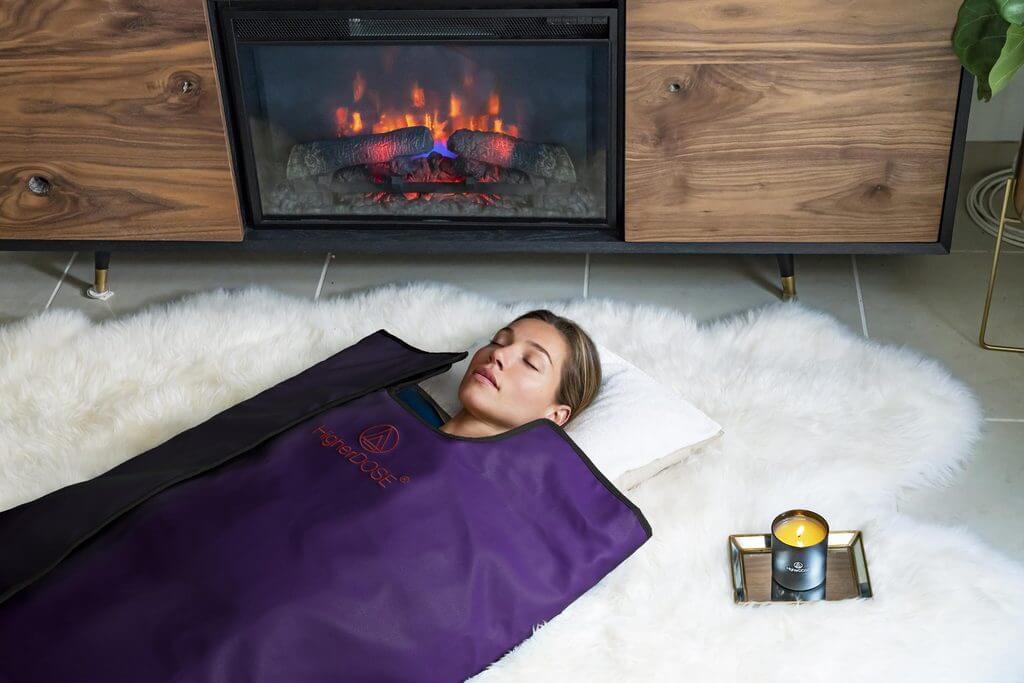 Our Picks
Product
VANELL Sauna Blanket Upgraded Version Far-Infrared
3 Zone Far Infrared Sauna Heating Blanket
HUKOER Far Infrared Sauna Blanket
Last update on 2022-08-07 / Affiliate links / Images from Amazon Product Advertising API
Infrared Sauna Blanket Health Benefits
Studies have shown that infrared sauna blankets lead to important health benefits as detailed below.
Improved Heart Health – Sauna blankets increase heart health as increased temperatures increase heart rates which lead to better blood circulation around the body. This increase circulation is similar to the effects of exercise, as it increases cardiac output by getting the blood moving and the heart beating. Some scientific research suggests that using a sauna can tackle many heart conditions such as high blood pressure, and heart disease.
Increased immune system – Increased temperatures also help the body's immune system by increasing white blood cell production. While blood cells are the body's warriors that attack infections and stop you from getting sick.
Reduces Cellulite- As infrared blankets increase circulation, the appearance of cellulite is reduced. Cellulite is a group of fat cells that occur due to a lack of circulation and better blood flow can decrease this over time. Furthermore, the blood flow can reduce inflammation in general whether it is muscle pain, joint pain or joint sprains.
Helps with Pain – Physical injuries can be combatted with sauna blankets as the infrared heat increases circulation and dilates blood vessels. Studies have shown that increased blood flow can improve recovery time, and heat is a known benefit when trying to alleviate muscle pain. The technology found in infrared heat has been used by medical experts to treat arthritis and rheumatism amongst other conditions.
Stress Relief – Stress levels can have an impact on general body health, and infrared sauna blankets can help you relax. Increasing circulation levels can tackle stress as it leads to ore endorphins being released in the body. Endorphins are released when the body feels good and are usually released during activities like exercise. These endorphins can reduce stress levels, allowing you to relax and recuperate.
Detoxification – As the infrared light from sauna blankets are converted to heat, the body increases the amount of sweat that it produces, and in turn, this increases the detoxification of the body. This combined with an increased heat rate, triggers the body to begin detoxing, where toxins in the body are released through sweat from the pores.
The additional amount of sweat that the body produces can also lead to a reduction in water weight, bloating and puffiness and therefore it gives the appearance of weight loss gradually across sessions.
Due to this increase sweat, it is important to properly prepare for using a sauna blanket, by drinking water or an electrolyte drink beforehand in order to stay properly hydrated.
Other health benefits – In addition to those listed above, the use of saunas or sauna products such as sauna blankets have been shown to have other health benefits. For example, there are some studies that show that those who use a sauna more than four times a week are far less likely to develop memory conditions such as dementia or Alzheimer's disease.
Health Precautions
While discussing the benefits of using sauna blanket products, it is also important to know how to use them safely.
Sauna blankets should not be used if you are pregnant, have low blood pressure, or have had a recent heart attack. If you are on medication, this may also be an issue so ensure that you check with a doctor before using one.
When using a sauna blanket, do not drink alcohol as this dehydrates the body and can lead to increased risk of an irregular heartbeat and fainting. To help prevent dehydration, try and drink water before use and only use the product for 15 to 20 minutes at a time.
EMF In Sauna Blankets
EMF can come from every single electrical device that you have in your home and these blankets are no exception with EMFs coming from the infrared elements, although not as much as traditional heating elements.
It is important to reduce your exposure to EMFs by only using the product as the manufacturer describes and for short bursts. Research has found that appliances within the home are likely to have EMF levels that are harmful, however there is uncertainty regarding certain health effects. EMF releases calcium ions that some believe impact brain processing leading to issues with sleep, memory, concentration levels and mental health issues such as anxiety and depression. Additionally, it can lead to uncomfortable numbness and tingling in the body.
Where possible, we have tried to find sauna blankets that have lower EMF readings than others on the market.
Infrared Sauna Blankets
There is a good selection of at home sauna blankets on the market, available at a variety of prices. Most share a similar design, but some have additional features that may be more appropriate to your individual needs. When considering your budget for a quality sauna blanket, it is important to weigh up price and longevity – a high-end quality blanket may last for many years. If, however, you are unsure about how much use you would get out of such an item, perhaps consider a more affordable option from the ones that we have selected below.
This blanket is an updated version of the classic sauna blanket from the same company. Available on Amazon.co.uk in two different colour options, pink and silver, this blanket is made from materials that are environmentally friendly. The inside of the blanket is waterproof while the outside material is high-quality polyurethane oxford cloth.
The silver version of the blanket is more expensive as it includes three separate heated zones which can be adjusted separately, giving you more control of the temperatures that your body faces.
This blanket has excellent safety features that include a timer, which means that it can be set for any time between 15 and 60 minutes before it turns off automatically. There is also a safety feature built-in which is programmed to shut the blanket down if any abnormalities are detected. Additionally, there is an alarm that will go off for one minute if the temperature increases over 85 degrees.
What makes this blanket stand out against some other sauna blankets on the market is the two zips that are located on the upper part of the blanket. These zippers enable you to use your hands easily while inside the blanket, meaning that you can access your phone, or even read a book while enjoying your moments of relaxation.
Last update on 2022-08-07 / Affiliate links / Images from Amazon Product Advertising API
The VANELL Sauna Blanket has two different temperature zones that can separately control the infrared technology to heat the body. The materials that make up this sauna blanket are friendly to the environment and are designed to be light weight and flexible so that it is easier to transport and store.
This version comes with seven different layers. Firstly, there is a Far Infrared layer to heat the device, then a waterproof layer to help deal with any moisture that is created. Next, there is a shield and a heat conduction layer which help keep the high temperatures inside the blanket. These are followed by a temperature control layer and fever layer before being topped off with a heat preservation cover. The design aims to be highly efficient.
Like the TOPQSC model, the blanket comes equipped with a timer that can be set for any length of time between 15 and 60 minutes before it automatically switches off. There is also a built in safety device which will turn the sauna blanket off if any issues are identified ensuring that it doesn't overheat and become dangerous for the user.
The Far Infrared Sauna Blanket is fast heating – reaching optimal temperatures in 15 minutes and comes in a large size – approximately 100cm by 200cm, meaning that it can fit most people. The blanket consists of both lightweight and durable material, with the Oxford fabric and PVC being both water resistant and wear resistant and can be wiped clean to ensure that it is kept sanitary.
Unlike the previous two options, this blanket only comes with one heat setting, meaning that a single temperature is used throughout. The remote control can be used to set a temperature between 35 and 75 degrees, with the blanket using its safety control to switch itself off if temperatures exceed 85 degrees.
This blanket comes in two different colour options – purple and grey with there being no difference in price between the two.
3 Zone Far Infrared Sauna Heating Blanket, Safety-water Proof Steam Blanket, Body Shape Slimming Fitness Burning Fat Machine for Beauty Salon, Spa and Home Use(UK)
3 zones design: First zone: The upper part of the blanket (the upper part corresponds to the chest and above of the human body. Middle zone: The middle part mainly corresponds to the abdomen of the human body. Third zone: The lower part mainly corresponds to the human body's thighs to feet
Far Infrared rays has the deep penetrating ability ability to penetrate, refract, radiate and reflect.Can be absorbed.transforms from light energy into heat energy. The thermal effect within the deep layers of the tissues causes blood vessels and capillaries to dilate, promoting better blood circulation, and the heat helps get rid of body toxins and metabolic.
Long and wide cover design, which is suitable for most customers.Suitable for beauty salon, spa, leisure chambers, and home use. Outside are top grade oxford cloth material, 100% waterproof.
Exclusive heat releases with 9~16μm infrared rays. Safety-water proof soft material with flexible tensile capabilities even in various sleeping position.
Designed for burning fat,accelerate metabolism, promote systemic blood circulation and etc. Give your family the best gift.
Last update on 2022-08-07 / Affiliate links / Images from Amazon Product Advertising API
One of the more expensive and high-quality options on our list is the 3 Zone Far Infrared Sauna Heating Blanket. The three zones can be individually programmed using the control meaning that the upper body, the torso and the legs can all be set at different temperatures.
The blanket comes in a large size to fit most adults and is one hundred percent waterproof throughout. The materials are lightweight and flexible, so can be moved so that a person can lie in different positions when using the blanket so that they are comfortable.
What makes this blanket stand out from the crowd is that is exclusively releases between 9 and 16 μm infrared rays which are optimally designed to increase circulation, accelerate the body's metabolism therefore, burning fat.
Sale
Far Infrared Sauna Blanket Portable Home Steam Blanket Heat Sauna Heating Blanket Professional Detox Therapy, Happier, Less Stressed, Enjoy Deep Sleep
Experience far-infrared body treatment: this slimming and detox system takes advantage of far infrared for its unique body penetrating ability. This 2 zone wrap system uses radiant heat to improve blood and lymph circulation allowing oxygen and nutrients to be more efficiently absorbed and utilized skin tone elasticity and cellulite also benefit greatly from the increase oxygen and nutrients, some skin conditions can be alleviated with regular use.
This deeply relaxing treatment is also great for stress relief score joints and stiff muscles you will leave invigorated renewed if you are looking for instant detox pain relief or you just want to drop a dress size.
Opens like a sleeping bag, lay in it and choose your favorite position as it got flexible tensile capability and heating wire which designed to withstand stretches or bends, then enjoy the spa treatment: weight losing, detoxification, improving blood circulation, enhance cells nourishment, making skin more fresh and active detoxing and eliminating toxin.
Top grade PU material outside, waterproof PVC inside; temperature adjustable from 95℉ to 167℉, time setting from 15 to 60 min., infrared dry heating, two zone-temperature control.
Note: Do not use the machine for more than 30 minutes per use to extend the life of the machine. If you need to use it for a long time, please use it for 30 minutes, spread it out and wait for it to cool down before using it.This could be used in spa/ salon store or personal beauty care. Please use it with Plastic Sheet for Body Wrap
Last update on 2022-08-07 / Affiliate links / Images from Amazon Product Advertising API
The HUKOER Infrared Sauna Blanket is slightly smaller than others on the market, measuring at around 179cm by 85cm, making it a snugger fit. The blanket opens with a zip, like a sleeping bag and is made of flexible and lightweight PU material so that users can lie in a variety of positions. The material is also waterproof and comes in a silver colour.
The blanket comes with two adjustable temperature settings that can be set from 35 to 75 degrees Celsius. Although the blanket can be used on a timer for between 15 and 60 minutes, the company recommends that it be used for 30 minutes at a time.