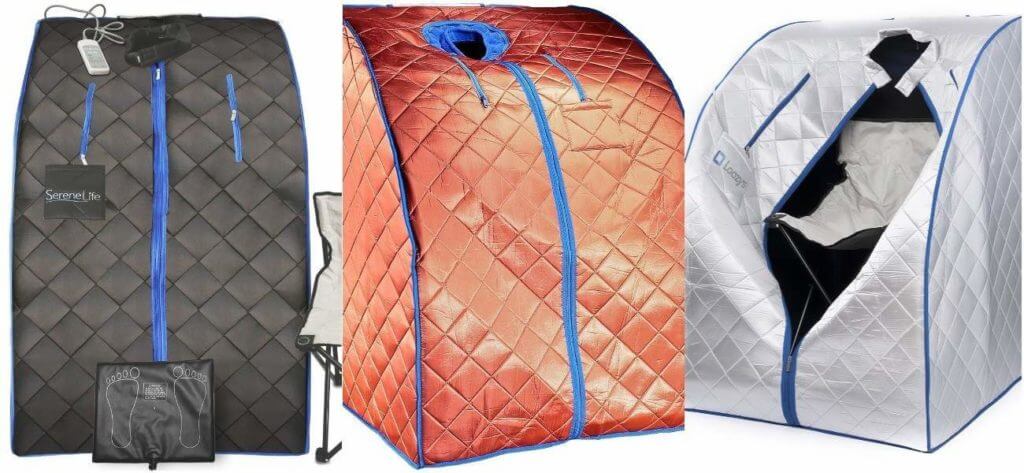 In Finland, the sauna is practically a way of life, with almost one sauna to every household. Here in the UK, we realise the health benefits of saunas and many people are now buying them as an addition to the conventional bath or shower. Limited space for many people means that they are thinking of going down the portable sauna route. With this in mind and with this increase in demand, we decided it was time to have an in-depth look at infrared saunas and recommend some of the best.
It is current at the moment to be thinking about the threat posed by EMF from electrical devices. So along with the undoubted health benefits of an infrared sauna, some people may be weighing up the benefits against the possible side effects of prolonged exposure to the EMF generated by portable infrared saunas. To help with this dilemma, we decided to take a look at:
The real health benefits of saunas
How to keep yourself safe in a sauna
The advantages of infrared saunas
The degree of danger they pose from EMF radiation.
We have also put together our choice of the best portable infrared saunas on the market today.
Our Picks
Our Recommended
Product
Firzone Portable Infrared Sauna – Tourmaline Pro
Firzone FZ-100 Portable Infrared Sauna
VEVOR FAR Infrared Portable Sauna
Ridgeyard Portable Far Infrared Sauna
Portable Infrared Sauna XL Deluxe
Our Recommended
Product
Firzone Portable Infrared Sauna – Tourmaline Pro
Product
Firzone FZ-100 Portable Infrared Sauna
Product
VEVOR FAR Infrared Portable Sauna
Product
Ridgeyard Portable Far Infrared Sauna
Product
Portable Infrared Sauna XL Deluxe
Last update on 2023-12-03 / Affiliate links / Images from Amazon Product Advertising API
Health Benefits Of A Sauna
Among the benefits of saunas, people report feeling a healthy glow, sensing that their mind and body are more relaxed, and are getting better sleep. If you've had a muscle or joint injury and then had a sauna you can feel that it is doing you good. What happens to your body when you have a sauna is that the heat increases your heart rate, causing your heart to pump more blood. The blood vessels widen to increase blood flow, much of which goes to the skin. The increased blood flow raises the skin temperature to about 40℃ and induces sweating, as the body tries to cool itself. The effect of increased circulation has medical benefits, and much research is ongoing concerning this aspect of sauna use.
So what are the medical benefits?
1.The effect of the sauna on the vascular system is similar to moderate exercise, and the increase in heart rate is beneficial. There is medical evidence that saunas help with some vascular conditions such as high blood pressure and cardiovascular disease as well as several nonvascular conditions, including pulmonary disease.
The increased circulation speeds up the body's natural healing process and can also help with sore muscles and ease the pain of joint problems and musculoskeletal diseases.
The increase in heat also releases endorphins and regulates the cortisol in the blood, providing a feeling of well-being and helping to relieve stress. There is also the possibility that regular use of saunas may reduce the risk of dementia and Alzheimer's disease.
Precautions
There are several things you should know so that you keep yourself safe when using your sauna:
Don't drink alcohol before, during or after a sauna because it affects almost all your body systems. Apart from the dangers of passing out or an accident, it could cause irregular heartbeat, hypotension and dehydration.
If you have low blood pressure, had a recent heart attack or are on medication, consult your doctor before using a sauna.
Don't spend more than 15-20 minutes in your sauna.
Don't use a sauna if you are feeling unwell.
Drink plenty of water after a sauna to prevent dehydration, and cool down gradually.
Why Infrared Sauna?
The difference between infrared saunas and traditional saunas is that the infrared sauna heats you rather than the air in the sauna. The dry infrared sauna has no steam, so the atmosphere in the infrared sauna is not humid as it would be in a traditional sauna. Your body absorbs the infrared wavelength and starts the same sweating process that you would achieve from a conventional sauna.
Traditional saunas work by heating the air in the sauna. The heat generated can be either dry or, you can create damp-heat by splashing water on the heat source. Infrared saunas are different. Here the infrared light heats the person rather than the atmosphere. It is called Far Infrared Heating (FIR) and works by passing an electric current through a special carbon panel containing layers of different components to produce long wave infrared called FIR. The air does not absorb this type of infrared, so it heats matter directly and therefore requires less energy to generate the heat.
There are several advantages of an infrared sauna:
FIR stimulates the cells and tissues in the body and has been found to have beneficial effects for certain medical conditions.
Because dry infrared saunas don't have to heat water to create steam, they take about one-third of the energy of traditional saunas.
Infrared saunas run at lower temperatures than traditional saunas – 45-60℃ as opposed to 80-100℃. This lower temperature is advantageous for those people who cannot stand too much humidity.
Because of the lower heat and lack of humidity, people find that they can stay in dry infrared saunas for longer and have a more gentle sauna experience.
Infrared saunas are usually smaller than traditional ones and take up less space in the home.
Infrared saunas are also quicker to heat up than a traditional sauna which has to heat all the air in the sauna.
Why Portable?
For people with limited space, a portable sauna is an ideal choice. Portable saunas are so easy and convenient. You can have one any time you like. It gives you the same benefits as a large sauna, but is cheaper than a large sauna, takes up little space, folds away and is lightweight. You can even take it on holiday with you!
Should You Be Worried About EMF In Infrared Saunas?
EMF is everywhere. It is in every electrical device you use. Some people who are thinking about buying an infrared sauna may have concerns about their health since these devices do create EMFs in their heating elements and the FAR infrared elements.
You should know that the magnetic field drops off rapidly the further you are away from the source, so you must use the sauna as directed by the manufacturer. This advice usually includes no prolonged exposure. There is no current scientific research that proves that exposure to EMF is entirely safe, and where uncertainty exists, some people may want to reduce their exposure to EMF.
Because of this uncertainty, we have tried to help you with your search and have chosen, where possible, those saunas which are known to have low EMF readings.
Portable Infrared Saunas
There is a good selection of saunas below at varying prices. Most portable saunas have much the same design, but ensure that the one you select is the right size for your needs. Some of the saunas have additional features and some come with extras such as a folding seat etc. Concerning price; you may decide to commit yourself to a high-end quality sauna that will last for many years. If, however, you want to find out if a home sauna is right for you, you may think that one of the cheaper models is the right option.
Last update on 2023-12-03 / Affiliate links / Images from Amazon Product Advertising API
Both the Firzone saunas we are featuring are great, but the Tourmaline Pro is the larger model with 1000 watts and 800-watt heater. It is similar in design to the FZ model with a central zip and zip openings for your arms, but it has a ceramic fan heater which makes getting to the required heat that much quicker. When assembled it measures about 80cm x 80cm x 100cm.
The heating panels have tourmaline discs and generate high FIR radiance and FAR infrared rays. Tourmaline is a semi-precious stone that emits negative ions and used in many types of relaxation therapies and techniques. There are four panels in total, two at the back and one on each side. It comes with a remote control and footpad.
Concerning EMF, the information indicates that all Firzone products measure fluctuating levels from 0 to 4 milligauss (mG) in the location of the seated occupant in the sauna. Compare this level with household goods such as washing machines which have a reading of 0.1 to 4mG, computers 2 to 5mG and hairdryers at 0.1 to 6mG all measured at one metre away from the user.
The Tourmaline Pro isn't cheap, in fact, it is the most expensive one we have reviewed, but it does all you could ask for in a portable sauna and then some.
Firzone FZ-100 Portable Infrared Sauna
Firzone warranty
FIR heated foot pad and wall panels
Removable towelling collar and foldable chair
Pocket with Firzone logo and zips
Hand held remote control 35C-75C and 90 min max
Last update on 2023-12-03 / Affiliate links / Images from Amazon Product Advertising API
For the same Firzone quality but at a lower price, you could try the FZ-100. It is CE approved and tested. This sauna weighs 10 Kg and measures 73cm x 18cm x 103cm when folded. It only takes a few minutes to pack away. When erected it measures 99cm H x 72cm W x 81cm L. It has three mica heating panels with tourmaline stones to the sides and back, and a carbon heated footpad. Power is 900 watts. The FAR irradiation in the sauna is close to the vibration of human cells.
The quilted sauna has a central zipper and neck collar as well as zipped apertures for your hands. The controller can be stored in a pocket on the front for easy access when you are in the sauna.
It comes with a handheld timer and heating control, a folding chair, FIR heated footpad, felt floor mat and support board.
Again, this is not one of the cheapest saunas we are reviewing but is a good solid buy.
VEVOR Sauna Portable Heater, Infrared Sauna Box, 680W Home Sauna, Portable Home SPA with 60min Timer, Adjustable Temperature, Remote Control, Foldable Chair, Heating Foot Pad,Personal SPA
Infrared Sauna Heater: Voltage: 230V; Item Size: 2.6 x 2.3 x 3.2 ft (80 x 70 x 99 cm). Usually, accommodate 1 person at a time. Our portable sauna heater adopts infrared technology, reducing water use and achieving energy-saving effects compared to other products. After your busy work, take a comfortable sauna at home to relieve your tiredness, improve personal care and enhance your sleep quality.
Last update on 2023-12-03 / Affiliate links / Images from Amazon Product Advertising API
The Vevor is an excellent sauna at a great price and one we couldn't pass up as the best value for money buy.
The 1000W quilted sauna by VEVO is ideal for taking anywhere. It has a strap incorporated to make the sauna easy to carry when folded down and is simple to erect and collapse.
The design is conventional. There is a central zip at the front which makes for convenient access and for closing the sauna cabin. The neck aperture folds inwards for comfort and to retain heat. At the front of the sauna there is one pocket on the outside for the wired control. At the rear two pockets are for the wires to heating elements.
FAR Infrared Heating elements are the source of heat, and they are installed to the rear of the sauna. This sauna also comes with a thermostat and folding seat.
If you want to try out a home sauna for the first time and don't want to spend too much money, this is a great choice.
Ridgeyard Portable Safe Folding Far FIR Infrared Sauna Spa Tent with Heating Footpad and Chair Slimming Weight Loss +Negative Ion Detox
CONVENIENT PERSONAL SAUNA: this small sauna room provides you a spa enjoyment in your house rather than go to the spa beauty salon shop. It can be folded up when you don't need to use it, never occupy you home space
LOSE WEIGHT IN A EASY WAY: it will burn calories when you sweat, burn the fat and makes you sweat to get the result of losing weight, the best way for you to keep fit
FAR INFRARED HOME SPA: this far infrared suana tent use far infrared technology, it helps to improve the cytolergy which result in eliminating toxins and garbage from the body
LONG LIFETIME: the mini sauna room can service for a long time and save your money to pay to beauty salon shop, super easy to maintenance and no waste water, very environmental friendly
ENJOY YOURSELF: there is a foldable chair comes together and the humanized design personal sauna keep your head and hands out and let you free to do other things while you enjoying sweat steaming, you could read books, listening to the music, play your mobile phone, watch movies and so on, get healthy body while entertaining
Last update on 2023-12-03 / Affiliate links / Images from Amazon Product Advertising API
This portable sauna by Ridgeyard is a popular model at a very reasonable price. There are three slim carbon fibre heating elements which heat the sauna very quickly to its maximum of 60℃, and it has 600-watts of power. It is a low EMF product which comes with an EMC certificate (Electromagnetic Compatibility-mandatory in Europe and most other markets)
This sauna has a safety automatic shut-off feature built-in. It has a remote control for temperature and for the length of time you want to spend in the sauna. The sauna fabric is moisture-resistant satin polyester which is hard-wearing. It has a zip opening in the middle, and zip openings for your hands so that you can read, control the tv or have a cold drink whilst in your sauna, and a neat collar for your head. The sauna also comes with a folding chair and heated footpad.
It is quick and straightforward to assemble and take down; only a minute or so! It is 67.8cm long x 81.8cm wide x 99.8cm high and weighs in at about 23.5lb. If you are looking for an all-round, medium-priced sauna, this could be the one.
Portable Infrared Sauna XL Deluxe 1000 Watt FIR FAR Infrared Sauna with Heating Food Pad and Chair
The sauna strengthens the circulation and the immune system, the short-term temperature increase is very effective against diseases
HEALTHY THROUGH SWEATING: During health-active sweating in the cabin, metabolic slag, toxins and contaminants are excreted through the skin pores. Vitality and energy are also increased, which contributes to better well-being
TOP QUALITY: high quality workmanship with convincing functionality, as well as easy assembly ensure flexible possibilities in use
ACCESSORIES: heat cabin (including 4 infrared panels), heated floor mat, remote control; incl. camping chair
SPECIFICATIONS: Power – 1000 W; up to 65 ° C, 5 levels; Dimensions Weight: 11 kg
Last update on 2023-12-03 / Affiliate links / Images from Amazon Product Advertising API
This 1000 watt FIR FAR sauna by GNB is good value for money. It is made of quality materials and is easy to assemble and collapse. It weighs in at 11 Kg and measures 100cm H x 68cm W x 82cm D.
The control box is on the back panel, and the two side walls and the back wall have superconductive heating elements and FIR material. There is a central zipper for easy access, a zip for the neck collar and zips on the two slits for your arms. A pocket on the front holds the controller for heating and time settings. The controller has five settings up to 65℃.
It comes with a footpad which has its own heating elements and FIR material. It also comes with a folding chair and the remote control.