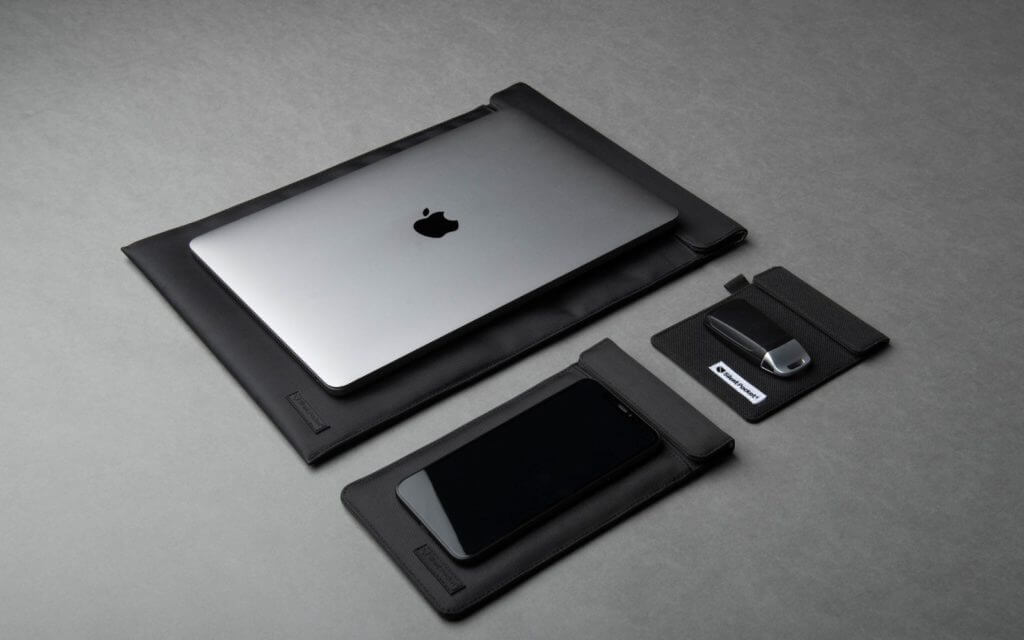 Did you know that you can protect yourself from digital theft and harmful EMF (electromagnetic field) all in one go by using a Faraday bag? By putting your smartphones, computers, credit cards etc. into this container, they are shielded from harm. Faraday bags block all radio frequency signals to and from any wireless devices that are inside the bag. This blocking means that hackers can't steal information from your digital devices and, also, the EMF from the equipment can't affect you. The 19th-century inventor Michael Faraday found that he could block electromagnetic fields or electromagnetic pulses by using a continuous covering of conductive materials. This type of blocking is the principle of the Faraday bag. We think that Faraday bags are a great idea, and not only us, it is also widely advertised that American law enforcement, military and government agencies use them. We have researched some of the best bags and pouches available online, so if you would like to give them a go, we can point you in the right direction.
Our Picks
Product
Faraday Defense XL Heavy Duty Duffle Bag
Mission Darkness Non-Window Faraday Bag For Laptops
Large Faraday Bag For Laptop, Phone And Credit Cards
Dango D01 Dapper Bifold Wallet
Two Pack Lanpard Faraday Car Key Pouch
Product
Faraday Defense XL Heavy Duty Duffle Bag
Product
Mission Darkness Non-Window Faraday Bag For Laptops
Product
Large Faraday Bag For Laptop, Phone And Credit Cards
Product
Dango D01 Dapper Bifold Wallet
Last update on 2023-12-03 / Affiliate links / Images from Amazon Product Advertising API
Reasons For Using A Faraday Bag
EMF Blocking
There are ever-present concerns and ongoing scientific investigations into the harmful effects of EMF. Low level, non-ionising EMF, the type you find in the types of electronic devices we use every day, is not proved to be entirely
safe
. The possibility of glioma (a type of tumour), leukaemia, neurological and psychiatric problems are still present. Whilst long term effects of EMFs are uncertain; it makes sense to reduce your exposure. Placing your devices in a Faraday bag will block most of the EMF from your devices. Perhaps you never thought that you might need to protect your digital devices while you are carrying them around? No? But you must be aware that cybercrime is increasing year on year. The
BBC
reported in 2019 that cybercrime victims in the UK lost £190,000 a day. This type of theft takes many forms such as identity theft, hacking of social media or email accounts, or the latest version of car theft by capturing the signal from a car fob.
Identity Theft
Although there are easier ways to steal your identity, anything which has an RFID (radio-frequency identification) chip is vulnerable to theft. An RFID chip can be read by skimming machines from several feet away. This possibility of skimming means that your passport identity and credit cards are vulnerable to theft if unprotected. A Faraday bag is the answer.
Smartphone
Your smartphone is a mine of information for the criminal. Software for hacking mobile devices exists online. A criminal could hack your smartphone without your knowledge to get data such as your contacts, emails or passwords. Remote hacking can be done because your smartphone has loads of different built-in radios, including WiFi, 4G and Bluetooth. These send out radio emissions on different frequencies. It is relatively easy for a hacker to connect to your phone in a public area using WiFi or Bluetooth. Hackers can use software to search for mobile devices with a working Bluetooth connection which is within range. A Faraday bag prevents this by stopping radio emissions both to and from your phone.
Car Key Fob
Several police forces in the UK including the
Hertfordshire
and
Durham
Constabularies, have recommended using faraday pouches for storing your keyless fob. This advice is prompted by the increasing number of keyless car thefts. This type of robbery involves the criminals using a signal boosting device to detect and capture the signal from the key fob and then using it to fool the vehicle into opening the door and starting the engine.
Tracking
There are also less obvious reasons to protect your electric items such as your mobile phone. You already know that somebody can track you via your smartphone GPS. Even when manually turned off, your phone's WiFi is on, pinpointing its location. Perhaps you don't mind that, but it is all part of the invasive use of personal information. Also, criminals could hijack and use this type of tracking data.
Choice Of Bags
If, like us, you think that Faraday bags are worth further investigation, have a look at the selection below. We have identified some different size bags to give you flexibility whatever your needs. You can purchase a Faraday bag, pouch or wallet to keep any of your electrical gadgets out of harm's way. There are Faraday bags for your computer, a smaller one for your phone or something minimal for your key fob. With so many begs to choose from, it gets difficult to decide which is the best option. We have made a selection based on value for money, quality and how fit it is for purpose.
Faraday Defense Duffel Bag XL Heavy Duty Black – Bug-out bag: EMP, Privacy, Anti-tracking, Shielding for Law Enforcement and Military – Dual Compartment Design
Premium, Durable, Dual-Compartment Faraday Duffel Bag
Heavy Duty Black Canvas Exterior, Durable Double-Fold Faraday Cage Design
60-85db Attenuation Blocking Range, Industry Leading Material
XL Duffel, Bugout Bag – survival gear, laptops, Ham radios, tablets, multiple cell phones
Designed to last: Quality materials, precise stitching, strong velcro, precision design, dual-compartment
Last update on 2023-12-03 / Affiliate links / Images from Amazon Product Advertising API
If you are looking for a large bag to take all your electronic devices in one go, this bag will do it. It measures about 61cm long x 30.5cm wide x 28cm high. You can use it to store your laptop, tablet, smartphone and keys, and know that it protects them from outside interference and that it protects you from EMFs. Just make sure that your laptop fits the dimensions before you buy. The bag is made by the American company Faraday Defense which specialises in producing conductive materials to protect against EMF, EMI and RFI. The company caters for the needs of the American military, law enforcement and government organisations. This heavy-duty duffle bag is made of quality blocking material and has dual compartments. It has 60 to 85dB attenuation, meaning a loss in signal strength measured in decibels and increasing the difficulty of hacking. The outside of the bag is heavy duty canvas, and the interior incorporates a double folding Faraday cage. We think that the price is reasonable for what you get from this quality, durable, bag that should meet all your needs for your electrical devices.
Mission Darkness Non-Window Faraday Bag for Laptops // Device Shielding for Law Enforcement, Military, Executive Privacy, EMP Protection, Travel & Data Security, Anti-hacking & Anti-tracking Assurance
✅ RF SIGNAL SHIELDING – Faraday bag blocks WiFi (2.4 and 5GHz), Bluetooth, cellular signals including 5G networks, GPS, RFID and radio signals from low MHz to 40GHz. Prevents device hacking, tracking, espionage and control chain corruption.
Military construction: made of water-repellent ballistic nylon outer material and two inner layers of highly shielding TitanRF Faraday fabric on all sides. The effectiveness of the shielding according to MIL STD 188-125 and IEEE 299-2006 is confirmed with full test reports available on request.
✅ DIGITAL DATA PROTECTION – Provides instant signal isolation for applications such as military and law enforcement forensic investigations, government and executive trips, personal data security, EMP/CME protection and EMF reduction.
✅ UNIVERSAL FIT FOR ALL LAPTOPS – Internal dimensions: 17″ x 14″ (43.18 cm x 35.56 cm). The universal size fits extra large laptops as well as multiple tablets, mobile phones, radios, GPS devices and other large or bulky electronic devices.
Additional functions: unique serial number for inventory tracking, transparent pockets on the back for placing company information/evidence cards, secure double roll and Velcro fastener. Proudly made in the USA.
Last update on 2023-12-03 / Affiliate links / Images from Amazon Product Advertising API
Mission Darkness is a big name in the Faraday bag business and does provide some good-quality products at reasonable prices. Here is a bag designed just to take your laptop. Advertised as used by the military and law enforcement agencies, and for protection against EMF and EMP (electromagnetic pulse), it is MIL-STD-188-125 certified, complying to military specifications. It protects from CMS (Coronal Mass Ejections, i.e. solar flares) as well. It also prevents penetration from all wireless signals including WiFi, Bluetooth, GPS, RFID, NFC and radio signals with an average attenuation of 60dB to 80dB. This laptop bag measures 54.6cm x 38.1cm x 0.5cm externally, with an internal usable space of 43.2cm x 35.6cm. There is room for your laptop or several tablets, plus your phone, GPS or other appliances. It has water-resistant ballistic nylon as outer protection, and there are two layers of high-shielding Faraday fabric on all the interior sides. You close the bag with a double roll and Velcro fastening. There is a transparent pocket on the back, and it comes with a unique serial number. f you want to protect your electric possessions such as laptop, tablets and phone whilst on-the-go, you could find a cheaper bag, but it would be difficult to find a better one.
Large Faraday Bag for Car Key Phone Ipads, Signal Blocker Pouch Case for Credit Cards, Call Data GPS Protector (L)
PROTECTION: Place your cell phone, car key remote, passport, credit cards, transmitters, or small electronics inside the faraday bag to prevent hacking, tracking, signal amplification attacks, and data theft. As a preventative measure, always keep devices shielded when not in use and during travel.
MILITARY-GRADE SIGNAL BLOCKING: Faraday bag blocks ALL signals including call data, cellular, Bluetooth, GPS, RFID, and radio signals with 70dB+ average attenuation so your devices cannot communicate.
HIGHEST QUALITY CONSTRUCTION: High-quality materials used throughout. Two layers of high-shielding faraday fabric on all sides with a protective ballistic nylon water-resistant outer shell and double fold over enclosure. Each bag comes equipped with a clear velcro-sealable pocket on the back to place a business card or agency identification.
COVERT PROTECTION: The bag in M size is good for cell phones, passports, key fods and some small things. The bag in L size is good for personal computer, Ipad, handcase bag and some bigger things. Keep your devices hidden and protected inside the inconspicuous reusable bag. Easy to carry with you by hand, or place in briefcase or purse.
SATISFACTION SERVICE: We want you to be satisfied with every purchase you make. If you are in any way dissatisfied with this product you ordered, we'll exchange it, replace it or refund your money within 60 days of purchase. Simply e-mail us the problem, and we'll take care of you.
Last update on 2023-12-03 / Affiliate links / Images from Amazon Product Advertising API
If you think the Mission Darkness laptop bag is too expensive, here is a good alternative. This is a large Faraday bag by NGLVKE which can take all you need for your day's work. You can pop in your laptop, phone, car keys, credit cards, and anything else you want to protect from the possibility of hacking, all in one good-sized bag. The bag is big enough to carry all your electric goods but small enough to be easy to carry in one hand or place inside your briefcase. It measures 35cm x 45cm and is well constructed. There are two layers of Faraday protective fabric on all sides and a water-resistant ballistic nylon outer shell. The bag folds over twice to keep all your possessions secure and has a clear velcro-sealable pocket on the back. The bag protects your equipment from all signals including call data records, RFID, Bluetooth, GPS and radio signals with an average attenuation of 70dB+. It also gives 99.9% EMF protection. This bag is a good quality bag at a low price if you want something smaller than the Mission Darkness laptop bag to keep your devices and electrical goods secure.
Last update on 2023-12-03 / Affiliate links / Images from Amazon Product Advertising API
Of all the things you want to protect, surely your credit cards rank highest. This wallet, made in the USA, by Dango Products does just that for you. It prevents criminals skimming your credit cards by reading and duplicating their radio frequency identification (RFID). This RFID wallet is tough. It is made from aerospace-grade aluminium which EMFs cannot penetrate and so gives complete protection to all your sensitive card information. To make it user friendly and easy to handle the aluminium is covered with a bolted-on, top quality leather outer coat which comes in several different colours. You might think that the wallet might be too bulky to be useful, but it weighs in at only 2 ounces and measures 10.2cm x 3.8cm x 15.2cm. There are three different pockets for your cards, and each pocket holds four cards. A silicone band is attached for your folding money. It also has an attachment loop for a chain or lanyard. This wallet is top quality, and, although it comes at a price, it has to be worth it.
Faraday Pouch for car Keys, Faraday Bag | Car Key Signal Blocking Pouch | Keyless Entry Car Keys Case | RFID Blocker Bag for Car Security | Anti-theft Remote Entry Keyless Protect, Pack of 2
【SECURE YOUR CAR BEFORE ITS TOO LATE】- Simply place the car key fob into the faraday bag and you're protected. Lanpard double-layer signal blocking faraday bags protect your belongings from EMF, RFID, and other hacking signals! No worry about thieves amplifying your fob signal and opening car any more, effectively stop your keyless entry fobs from being remotely accessed.
【RFID PROTECTION FUNCTION】 Lanpard faraday bag is constructed with premium carbon fiber textured material and two-layers of shielding materials, which can block phone calls, SMS, WI-FI, bluetooth, 5G, NFC signalsetc. It's suitable for all key fob sizes .Signal blocking pouch protect your car and credit card .Simple place the car key into the bag, and you will find no reponse from your cars.
【IMPROVED DESIGN 】Upgraded zinc alloy hook and Inner key chain. More strong and portable. Portable hook can hung on the pants or the knapsack, the inside key ring ensure taking the car key out easier. All the materials have been vigorously tested, which guarantees that the faraday pouch working greatly even after longer periods of use. Reliable, high quality, handmade.
【CONVENIENCE & 2 Pack】 The size of the car key signal blocking pouch is 9*14 cm. Which is easy to carry. We provide 2 medium pouches that you can protect your spare key fob or multiple vehicles in your household.
【Guarantee】Don't worry with Lanpard,this faraday pouch has been tested by the market and has been sold on amazon for at least 5 years. You can trust most people's choices and our services. If the faraday box have any problem contact us, we provide money back and lifetime warranty resent new one. 100% Satisfaction Guarantee for risk-free shopping!
Last update on 2023-12-03 / Affiliate links / Images from Amazon Product Advertising API
Technology has hugely improved the security of our cars, but thieves will always try to find a way around it. Criminals scan key fobs and hack into the signal so that they can break into your car. They don't even need to have the key; they can gain entry to your vehicle by relay theft. It happens like this: the thieves locate an electronic car key relay box near your home to pick up the signal from your key fob, even through walls, and then place a second relay box near your car to receive the call from the first box. This second relay box tricks your car into unlocking, believing that your fob signal is nearby. You can prevent this by putting your key fob in a Faraday car fob blocker. The Lampard Faraday bag has been tested and works on 99% of cars. It comprises a high-quality waterproof microfibre exterior with a signal blocking inner material. The smaller pouch measures 14cm x 9cm, and the larger one is 19.5cm x 9cm. Both block all signals, including RFID, WiFi, Bluetooth and GPS. This robust pouch comes with a hook and keyring and has room for your car key and house key. With excellent reviews showing that this key pouch works well, it has to be a bargain at the price.