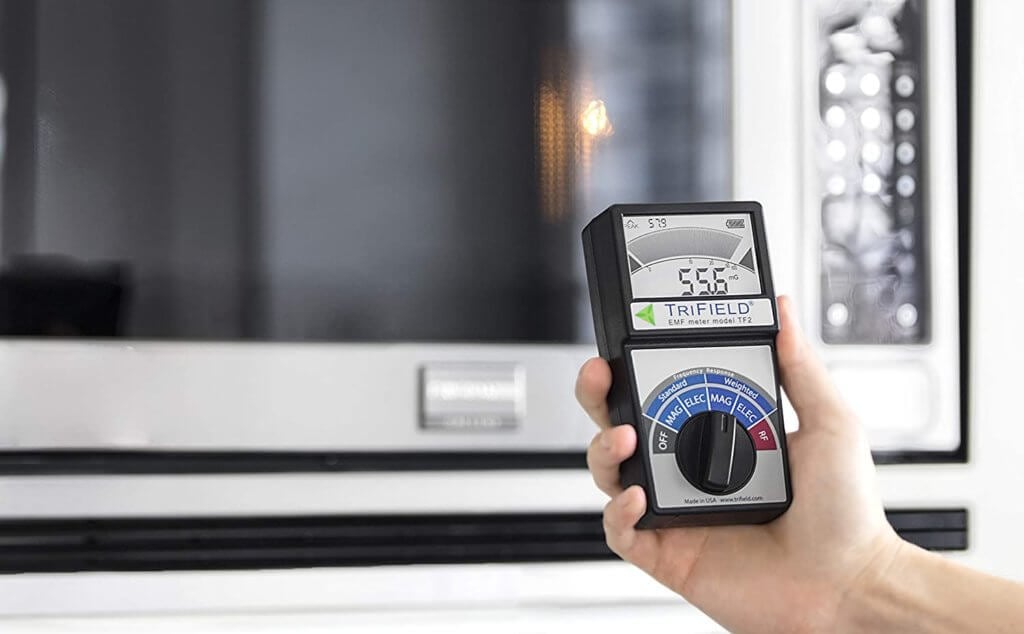 There's no denying humans are rapidly becoming conjoined with their phones, and it isn't just millennials or Gen-Z's either. Everyone from Mum and Dad to your little niece has a mobile phone they're putting to good use and if they weren't using them furiously pre-COVID, they certainly are now. Nowadays, hours are spent doomscrolling on an iPhone or Android, which means figures for on-screen time have almost doubled in the past few months.
So with Brits now spending an average of six-and-a-half hours per day staring at a screen, which doesn't even include the amount of time your phone spends in close proximity to you (i.e. a pocket or handbag), should we be concerned about the cumulative exposure to electromagnetic fields? 
We say cumulative, because it isn't just your mobile phone either. Microwaves, radios, Wi-Fi routers, TV remotes and powerlines all rely on invisible wavelengths to work. Although there's been no conclusive evidence that these non-ionizing waves are threatening to your health, unless you're exposed to mass amounts of it, we have to at least consider the idea that it might be doing something.
According to the American Cancer Society, who've been performing lab experiments and running tests on groups of people, radio frequency waves don't have enough energy to damage the DNA directly. However, other studies have found increased growth of certain tumours in lab animals exposed to radio frequency radiation, so results still remain a little unclear, and do we really want to risk our lives based on 'unclear'?
The good news is that we don't have to. There are a lot of ways to eliminate EMF in our daily lives and in order to do so, we first need to identify the problem areas, which is where the best EMF meters and detectors come into play.
Our Picks
Product
RF EMF Meter HF-B8G High Frequency 10Mhz-8Ghz
EMRSS Cornet ED88T Plus Trimode Meter
EMF Meter, Advanced GQ EMF-390 Multi-Field Electromagnetic Radiation Detector
Dimensions
37.2 x 23.1 x 11.4 cm; 1.35 Kilograms
16 x 11.8 x 7 cm; 120 Grams
13.97 x 7.62 x 2.54 cm; 283.5 Grams
Product
RF EMF Meter HF-B8G High Frequency 10Mhz-8Ghz
Dimensions
37.2 x 23.1 x 11.4 cm; 1.35 Kilograms
Product
EMRSS Cornet ED88T Plus Trimode Meter
Dimensions
16 x 11.8 x 7 cm; 120 Grams
Last update on 2023-12-03 / Affiliate links / Images from Amazon Product Advertising API
Why use an EMF detector?
Before we move on to why you should be using an EMF detector, we'd like to tell you a little more about what EMF radiation is in case you're still feeling a little uncertain. In the simplest terms, it's mostly man made frequencies that walk hand in hand with modern technology. 
The Electromagnetic Field spectrum is broad and can range anywhere from low frequency radio waves to high frequency gamma rays. For the purpose of this article, we'll only be looking at three parts of this spectrum. The first one is the radiofrequency radiation that things like mobile phones, WiFi and bluetooth appliances give off. Secondly is electric fields found from wiring, circuit routers and lights and then there's magnetic fields like hairdryers. 
The one thing all of these waves have in common, is that you're unable to see, hear, taste or feel them. Sure, you can physically see a light turn on or hear your hairdryer when it's powered on, but the waves itself are an invisible force. A force that's not great when it's above 1 milliwatt per square meter. When you're standing right on top of your router, that number could be anywhere around 200.
As mentioned before, there is still a lot of division on whether, or not, low frequency EMF is actually damaging to our health. One school of thought is that it could be disturbing our sleep, causing headaches or even increasing our risk of brain cancer, whilst other scholars remain adamant that the results remain too inconclusive to say. 
We say, there's no harm in being proactive and in control of your own health. Checking EMF readings around your own home is easy enough to do with a meter and it will give you a very real indication of hotspots where radiation might be higher than it safely should be. This, of course, gives you an opportunity to mitigate. 
How to use an EMF detector?
Whichever EMF meter you go with will undoubtedly come with instructions and frequently asked questions, but we wanted to highlight a couple of tips to using an EMF detector before diving into our product recommendations. 
It might seem obvious, but hand placement is extremely important and is dependent on meter to meter. If you're trying to measure radiofrequency waves on an Acoustimeter, for example, and you're covering the top where it's taking the reading, the results will be drastically swayed, so be sure to pay attention to that. 
It's also important to remember that fields are going in different directions, so keeping it in one place and taking a reading might not give you an accurate indication of waves around your house. At least, twist it around, moving it around you to see fluctuation; at most, walk around your house, scanning all the nooks and crannies to really get an accurate idea of areas that might need some attention. 
It might also be a good idea to take readings at different times of the day. A quiet afternoon might not give you the same numbers as early morning when the neighbours are using their mobile phones on the other side of your bedroom. 
The interactions in, not only our homes, but the spaces closest to us, can all increase the EMF in our surroundings. 
Because all of these readings can get overwhelming and muddled when we try to remember them in our heads, we recommend putting pen to paper in some way or another to keep track of it all. Treat it as an experiment and jot down the results you get in different rooms at different times of day and go from there.
Choice of EMF meters and detectors:
It's important to know straight away that there isn't a commercial product on the market at the moment able to test the full spectrum of 5G. Mainly because 5G could go up to around 300 GHz and these sort of EMF detectors usually tap out way before that. 
Here are five best EMF meters and detectors.
The newest version of the Acoustimeter RF meters from EMFields Solutions is the AM-11, which is their most versatile microwave detector yet, is probably the best radiofrequency meter for everyday purpose. Coming in at around 20cm, it might not be the smallest device out there, but it's not overly chunky and still easy to handle. 
It's simple to use, especially if you're new to the world of EMF detection. The display is clear, which makes the readings easy to interpret, but even without the display, the LED lights are easily understood. 
The other great thing about the Acoustimeter is its sensitivity to detect almost all modern wireless technology, including mobile phones, cordless phones, smart meters and WiFi. In fact, if you're worried about how EMF is disturbing your sleep, this is one of the best meters for testing WiFi in your bedroom. 
Turning the audio function on makes the Acoustimeter even more sensitive as the device is able to pick up the low frequencies that the LEDs or display wouldn't even register. The spike in the crackle is also a really useful tool for identifying problem areas whilst EMF testing your home.
As mentioned above, you'll traditionally have a different sensor each for radiofrequency, for electric and for magnetic. However, this TriField model actually combines all three into one unit. 
It's an attractive meter, too; it's smaller than most of the other ones and gives a clear readout on the liquid crystal display. The addition of the VU (volume meter) display above the numerical value is a nice touch, too. 
You're able to adjust the knob at the bottom to set the function of the meter to detect magnetic, electric or radiofrequency. However, it goes a step beyond by allowing the user to use either 'Standard' or 'Weighted' when it comes to the magnetic and electric detection. What's the difference? With 'Standard' it'll pick up on every wave, however small, in its perimeter, whereas 'Weighted' will only read the higher frequency areas. So if you are looking to make changes to the biggest offenders without necessarily sweating the small things, this is a good option for you. 
A few other nice touches with this meter is that, similar to the Acoustimeter, it comes with a sound indicator to help you pinpoint the worst offenders. It also has an adjustable backlight that could come in handy when you're working in low light areas and the peak hold function is able to capture fast pulses. The latter is very useful when it comes to mobile phones especially as they emit pulses every few seconds and could be easy to miss without this function.
RF EMF Meter HF-B8G High Frequency 10Mhz-8Ghz. Measures Wide-Range Radiation Levels from Cell Towers-Smart Meters-Wi-Fi-Cordless & Cell Phones-3G-4G Networks-Bluetooth Devices-Used in Home Inspections
Measurement range: 38mV to 20V/m, Sampling Time 2.5 times per second,
Frequency range: 10MHz~8GHZ, Measurement units mV/m , V/m , µA/m , mA/m , µW/m2 , mW/m2 , µW/cm2
Sensor: Triple Axis (X, Y, Z), Display resolution 0.1mV/m, 0.1µA/m, 0.001µW/m2, 0.001µW/cm2
Manual data memory (Max & AVG) records, Alarm function Adjustable threshold with ON/ OFF,
Calibration factor – Adjustable, Memory Recall Records Maximum & AVG
Last update on 2023-12-03 / Affiliate links / Images from Amazon Product Advertising API
Fully calibrated, the LATNEX EMF detector is pretty much ready to go straight out of the box and comes with a calibration certificate from the manufacturer. Attaching the antenna to the body is very easy and using the device is just as simple. Something else that earns this meter a big tick is the large and very clear display. 
This device also comes with an option of three units of measurement and can detect waves up to 8 GHz. It is chunkier than some of the other models, but the great thing about the LATNEX is it's three-channel measurement sensor which allows the device to read waves all around and not just the direction you're pointing it in. 
Able to sense both electromagnetic and radiofrequency waves, this meter is a great option for usage around the home, saving you the effort and cost of finding two separate meters to perform the readings separately.
Last update on 2023-12-03 / Affiliate links / Images from Amazon Product Advertising API
Like the TriField, this Cornet model has a gauss meter built in, which means this little device is also capable of measuring radiofrequency alongside the magnetic and electric fields. It does it pretty well, too, despite being a little directional. This only means that you're really going to want to point the sensor in the direction you want to scan, which might not make it the most accurate meter, but it is one of the best commercial options out there. The readings get pretty close to being dead on, making it a pretty reliable tool for weeding out sources that might be operating at a higher frequency and adding to electro-pollution in your home or office. 
The display may not be as clear as some of the other models, but it is readable and easy to use. It measures up to 8 GHz and comes in a compact size of 7x13cm. Another really cool feature is its ability to record up to fifty hours of data taken at programmable intervals. Meaning you can take readings of your home throughout the day and night to see if there are any irregularities at any point. This unit is able to interface to a computer, allowing you to review your findings.
Sale
Last update on 2023-12-03 / Affiliate links / Images from Amazon Product Advertising API
The GQ is another device capable of recording data and displaying it on your computer via the USB connection. It's a pretty straightforward device in terms of looks; only a couple of buttons on a pretty small frame, but the different readings and graphs the GQ is able to produce is probably the most complex of the five models in this article. 
The real time EMF graph presents exact changes in radiation levels in 45 second increments. There's also an RF Spectrum Analyser and RF Browser and a Real-Time Power Distribution Histogram so you're able to really deep-dive into the data and nail anything that could be registering as higher EMF. Despite this, it's still easy to use and understand, which makes it a solid option for home testing and both a good starter option and something you can continue using the deeper you go into EMF detection. 
This model can detect up to 10 GHz and has multiple sensors installed so you can really rely on an accurate measurement.